Wales tactics vulnerable to injuries, says Gareth Llewellyn
Last updated on .From the section Welsh Rugby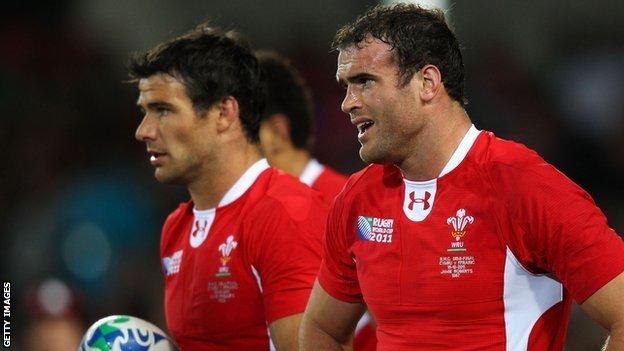 Former captain Gareth Llewellyn believes Wales' approach to the 2015 World Cup will be determined by how they fare in four November Tests.
Wales provided 16 British and Irish Lions in Australia in 2013, having won the 2012 and 2103 Six Nations titles.
But Llewellyn says Wales' power tactics make them vulnerable to injuries.
And if Wales fail to beat South Africa on 9 November, Llewellyn contends: "We do have to have a little look at the way we play."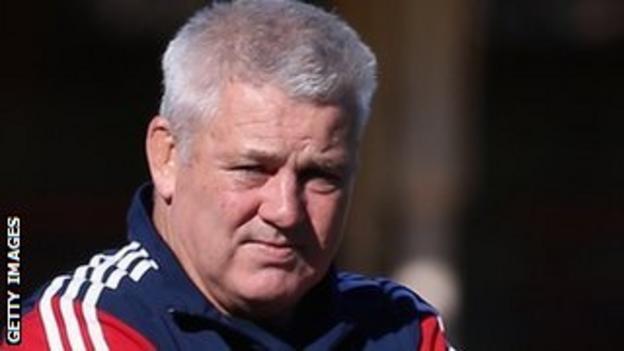 The former lock says coach Warren Gatland's tactics would not succeed if scrum-half Mike Phillips and centre Jamie Roberts are injured.
Racing Metro centre Roberts is likely to miss Wales' forthcoming Tests because of an
And Phillips faces a disciplinary hearing at Bayonne on Tuesday to answer allegations that he attended a video analysis session while under the influence of alcohol.
Gatland is due to announce his squad for the November internationals on Tuesday.
Wales face Argentina on 16 November, take on Tonga the following Friday, 22 November and complete their series against Australia eight days later.
Wales lost to Argentina, Samoa, and the in the 2012 autumn series.
They then recovered from an opening 2013 Six Nations defeat by Ireland to retain the title.
Former Neath, Harlequins and Ospreys lock Llewellyn won 92 caps between 1989 and 2004.
He questions Wales' likelihood of succeeding at the 2015 World Cup with a game plan dubbed "Warrenball" by sections of the Australian media during the Lions' successful 2013 tour to Australia which Gatland led.
"Can our power game that we play, if you like, sustain us against South Africa and New Zealand?" pondered Llewellyn on Radio Wales Sport's rugby show.
"And that's always been the worry for me.
"We've had an unprecedented success at international level, three Grand Slams or whatever it is in the last eight years.
"But it's when we overpower people up front and Jamie Roberts is fit.
"We lost in the autumn last year, not because Warren Gatland was away [with the Lions], but because we had a raft of injuries and we didn't have the players to carry out that strategy and that game plan.
"And we're going up against a South Africa team who play that type of game.
"If we can't overpower South Africa then maybe we need to look to add another string to our bow to take to the 2015 World Cup.
"We all know the type of game plan we play and we'll be without Jamie Roberts to do it.
"If we go out and play the way we normally play and we beat South Africa, then that is the game [plan] we take into the World Cup.
"If we don't beat South Africa by playing that game and we can't out-physical them or overpower them, which for me is our type of rugby - gain-line, winning the collision - then we do have to have a little look at the way we play.
"So we just need to have a look at what type of game we take into the World Cup and how we adjust things so that the next time we play South Africa or New Zealand, we beat them.
"If you lose Mike Phillips and Jamie Roberts, can you play that game? That's the question and I think last autumn we tried to play the same game and we needed to change.
"And that's why we lost."