Dean Ryan: Worcester players should not need telling
Last updated on .From the section Rugby Union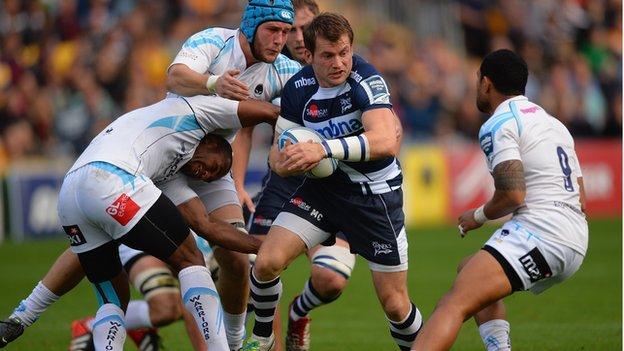 Worcester Warriors director of rugby Dean Ryan says he should not have to read the riot act in order to get a response from his players.
Losing 24-3 to Sale at half-time in Saturday's Challenge Cup tie, having been bolstered by the arrival of hooker Agustin Creevy, the Warriors responded with two second-half tries.
But they still went down 29-15 in the end, their 12th game without a win.
"It's wrong for me to be the catalyst for a response," Ryan told BBC Sport.
"This club and the playing group are responsible for them responding.
"Twenty-four points down is irrelevant. It's an easy place to go and play positively. 0-0 is a difficult place to go and be positive."
Ryan also refuses to believe that, despite the obvious impact Argentine international Creevy had when he came on at half-time for his debut, that Worcester's hopes rest solely on their four-man South American influx.
"Let's stop pretending they're the cavalry that are going to sort out all our problems," Ryan told BBC Hereford & Worcester.
"Creevy makes a huge difference when he comes on. You see the difference and we get momentum.
"But it is unacceptable to think that one person is going to generate that.
"He's a powerful man and a great ball carrier and Mariano Galarza is a big man in the line-out. But they're not the cavalry."
But, although he still has that last of his Argentine quartet to bring in, loose forward Leonardo Senatore, who still has one more of his seven-match biting ban to serve, Ryan insists that there has to be an improvement throughout his entire 23-man matchday squad.
"We have a responsibility to get better. At the moment, we're saying those things and not demonstrating it and we need to do that better."
"We started poorly against Newcastle. Same thing.
"We've got to work harder. I'm reluctant to be involved with a team that doesn't want to do that. It has to be the precursor for everything.
"It's a cultural foundation stone to everything I've ever seen in the game.
"If I can't find the individuals that want to do that, I will have to look at other individuals to demonstrate it."