Jeremy Guscott Q&A: Courtney Lawes, Cardiff Blues and Ulster

By Jeremy Guscott
Rugby union analyst, BBC Sport
Last updated on .From the section Rugby Union282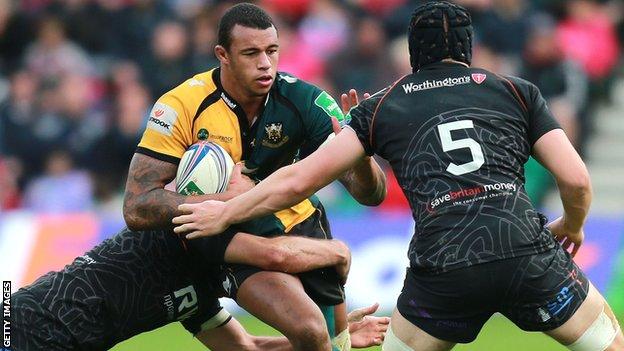 Among the topics making the headlines this week are:
- The chances of Courtney Lawes regaining his England spot
- Whether Cardiff Blues will make it out of their pool
- Why the Ospreys consistently come up short in Europe
- Whether anyone will beat the All Blacks this year
- The most unusual reason for a match being stopped
Jerry answers questions posted on the website at the start of every week - entries are now closed for this Q&A. This week's answers appear below.
Hi Jerry, do you think Courtney Lawes' strong performance against Castres last week and his man-of-the-match display against Ospreys this week are enough to earn a starting spot in the England second row for the autumn internationals ahead of Geoff Parling or Joe Launchbury? marchthe14th
Hi marchthe14th, without doubt Lawes has put in some headline performances recently and they will have caught the eye of England boss Stuart Lancaster.
In my opinion he's a better player this season for adding an attacking element to his play, rather than just looking for the next player to tackle. Lawes' timing couldn't have been better and personally I would pick him ahead of Parling for the first Test, against Australia on 2 November, but I think Lancaster will select Parling. It's all very close though.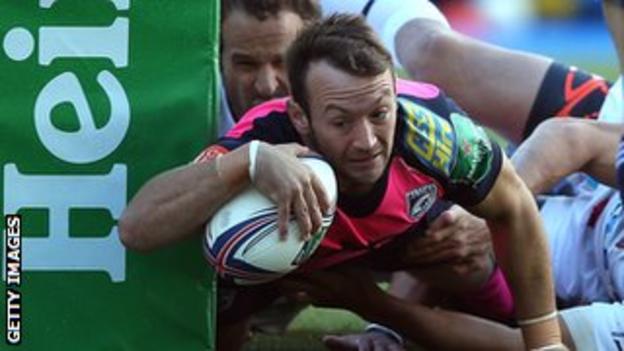 Top story this week, obviously, is Cardiff Blues smashing Toulon. Do you think we can springboard from this and get out of the group? CymruBlue
Hi CymruBlue, with one point separating first to fourth this pool is wide open, but it's hard to look past Toulon finishing top. For Cardiff to progress as one of the two best runners-up they've got to be looking at having 20 or more points, so winning three of the next four games, with at least one bonus point, is a must if they are to have a realistic chance of going through.
Winning round three against Glasgow at home with that bonus point would give them the start required and the incentive to make it. But Glasgow and Exeter are in the same position and I can see a scenario where they cancel each other out and only the pool winner will go through.
Jerry, Cardiff beating Toulon was a major upset and brought this competition over the weekend alight. Surely this shows that we need the Heineken Cup as there is no better club tournament in the northern hemisphere and that it is exciting and tense. Proud Celt
Hi Proud Celt, have no fear, in my opinion there will be a European competition next season - it will just be a different format and have a different broadcaster televising it.
Ulster clearly played outstandingly in their away victory over French giants Montpellier on Saturday. Do you think Ulster have the ability and belief to win away in France again this season against the likes of Clermont and Toulon? Also, how would you rate Paddy Jackson's performance against the other fly-halves in this tournament so far? lewisbrock
Hi Lewis, I don't believe many neutrals would bet on an Ulster win against Toulon or Clermont away from home. As for PJ, he's doing a good job and holding his own amongst his positional peers.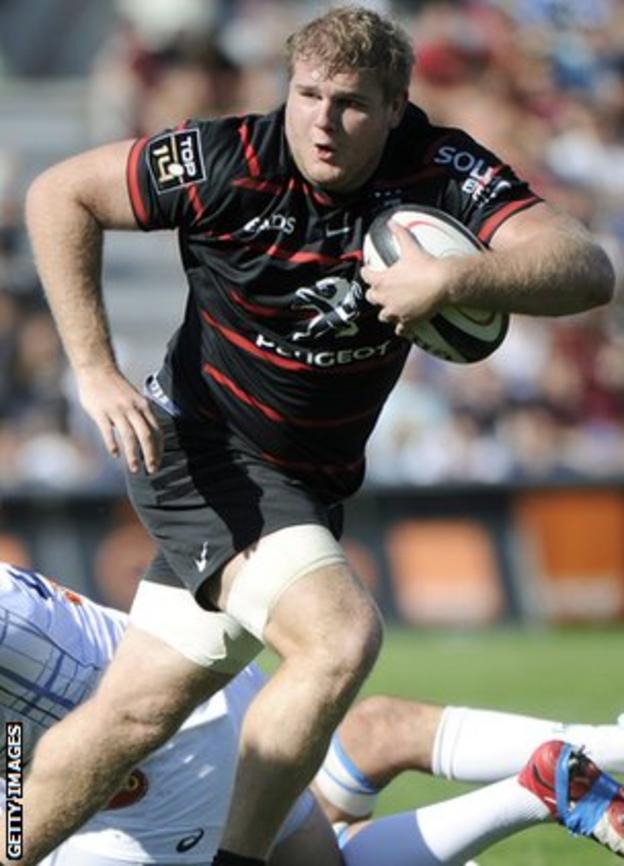 Jerry, was Thierry Dusatoir's post-match statement on Friday the biggest understatement this year: "With Gillian [Galan] and Louis [Picamoles], the other sides are less comfortable." Is Galan the biggest man you have ever seen? The most physical team in England (possibly in Britain) were not physical enough. Ominous. StandUpForTheSaracens
Hi StandUpForTheSaracens, these two fellas are enormous but I still think Montpellier's Georgian number eight Mamuka Gorgodze is more powerful. Having said that, Galan must be playing out of his skin to keep Picamoles out of the Toulouse team, because the France number eight was one of the best players in the world last season.
I remember watching Gorgodze running through players like a bowling ball smashing pins out of the way - brutal. However, to put these three players in perspective, Jonah Lomu was the same size but could run twice as fast!
Remember though, you don't always have to match the power and size of a team - you can be smarter and win too.
Jeremy, the Ospreys' pack seem to have come off second best in the first two weeks of the Heineken Cup, particularly in the scrums, where they were expected to have the ascendency. Do you think there is something significant in this, given at least four of the front five will be starters for Wales in the autumn internationals? Arawn
Hi Arawn, there has been a fair amount of expectation surrounding the Ospreys to produce the goods in Europe for a number of years now but it hasn't happened. For me, the missing elements are a combination of wanting to do it for one another and mental toughness.
We can all see the experienced internationals in the team - how they don't manage to put together performances for the Ospreys of the same standard as they produce for their country is bewildering and frustrating. I can only think they don't believe they're good enough, which tells me the spirit within the whole squad isn't right.
Will Clermont ever lose at home? Sunday's win over Harlequins was their 65th in a row at the Stade Marcel Michelin. Fergal Spencer
Hi Fergal, that record has to go at some stage but I can't tell you when that'll be - they're a very good squad, as we know. In my opinion the likes of Toulon, Toulouse and Leinster, on their day, have the ability to do the job.
Hi Jerry, do you think the All Blacks will be undefeated at the end of the year, or can any team (of those left to face them) stop them? Azaer
Hi Azaer, I can't see anyone beating the All Blacks - they really are the best team in the world. They're not the strongest or most powerful but their overall technique, game understanding and skill level in all positions makes them pretty unbeatable.
There's always a chance that teams can produce a performance like England's last season but I'm not expecting one this time round.
The Aberavon v Bristol match was abandoned because of the sudden appearance of a large hole in the pitch. What is the strangest reason you know of for the abandonment of a game? Wrexhamstalwart
Jerry, I was at the Aberavon-Bristol match which had to be abandoned late in the second half because of a huge hole in the pitch. What was the most extraordinary third-party intervention that you witnessed during your playing career? john_adv
Hi, Wrexhamstalwart and John, I remember a fixture as a junior at a club in the region where we refused to play because of the amount of dog poop on the field!