Bristol Rugby deducted one point for breach of regulations
Last updated on .From the section Rugby Union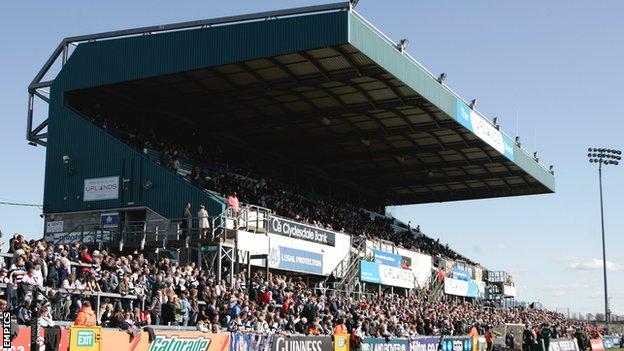 Bristol Rugby have been deducted one point by the Rugby Football Union for a breach of league regulations in this month's victory over Bedford Blues.
They have been punished for not taking a player off the field when the game went to uncontested scrums, Jason Hobson having left the field injured.
Bristol now have the right to appeal, which must be lodged within 14 days of receiving the judgement.
The club have said they will consider their position over the next few days.
Bristol beat Bedford 45-27 on Sunday, 6 October at the Memorial Stadium and secured a bonus point in the process.
A Rugby Football Union statement said: "The breach of Regulation 3.4(c) took place during minute 67 and 76 of Bristol's fixture against the Blues, during which the club had 15 players on the field.
"The sequence of events and the regulations set out in 3.4 meant that Bristol should have played with 14 men for the period of time of the match going to uncontested scrums to the conclusion, due to Bristol's number 17 (Jason Hobson) not being able to return from the blood bin.
"The decision to deduct one league point was reached as a result of a) the effect of the breach, resulting in Bristol having one extra man on the field, and b) the level of the competition and of team management leaving no excuse for misunderstanding or not reading the relevant regulations applicable to the competition."