Heineken Cup: European rugby unions agree to changes
Last updated on .From the section Rugby Union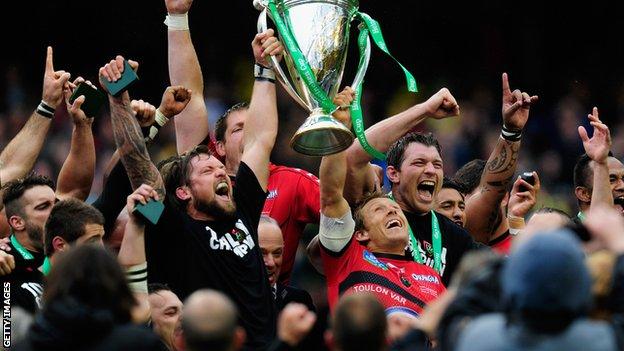 The English, French, Scottish, Welsh, Irish and Italian governing bodies have agreed to change the structure of European club rugby.
After meetings in Dublin, they agreed on the formation of two tweaked competitions of 20 teams each as well as a change in revenue distribution.
But top English and French clubs, who have proposed a breakaway competition from next season, were not present.
The Anglo-French plan has been backed by the four Welsh regions.
Premiership Rugby (PRL) in England and Ligue Nationale de Rugby (LNR) in France say they will have no involvement in the Heineken Cup or Amlin Challenge Cup from next season.
Instead of competing in European Rugby Cup (ERC) competitions, the PRL and LNR plan to form an alternative Rugby Champions Cup.
Details of this competition could be rolled out next month.
PRL and LNR are unhappy at how teams qualify for the Heineken Cup, especially from the RaboDirect Pro12 league, and how proceeds are shared.
Currently, only the top six clubs in England and France are guaranteed a place in the Heineken Cup, whereas at least 10 Pro12 outfits - including both Scottish teams (Edinburgh and Glasgow), both Italian teams (Treviso and Zebre) and a minimum of three sides each from Wales and Ireland - have automatic entry into the competition.
As part of the new proposals, only seven clubs from the Pro12 would qualify for the primary tournament.
In addition, the revenue would be split evenly between the three leagues - the English Premiership, France's Top 14 and the Pro12 - as proposed by English and French clubs in June of last year.
But PRL said Thursday's developments offer "no more than half a solution" to the crisis.
"It seems that the proposals we have made on competition formats and on financial distribution have been accepted," said its chief executive Mark McCafferty.
"Hopefully, it is a sign that in due course the whole approach we've been proposing is bought into. I guess time will tell.
"It is far from complete, but the pieces they have commented on are in line with what we've proposed.
"We have always said that there is no way we are going into any competitions that are run by ERC after the end of this season. That hasn't changed.
"We feel a fresh start has got to be made."
Remaining stumbling blocks are the rival television broadcasting deals between Sky and BT and the insistence of English and French outfits that clubs should run European competitions, rather than the unions.
Representatives from the Rugby Football Union, French Rugby Federation, Scottish Rugby Union, Welsh Rugby Union, Irish Rugby Union and Italian Rugby Federation were all present in Dublin.
They issued a statement which read: "Progress has been made on a number of issues relating to the future of European club rugby competition.
"The primary competition would be made up of 20 clubs, with six each from PRL and the LNR, and seven from the Pro12 tournament.
"The clubs would come through meritocratic qualification from their respective leagues and, in the case of the Pro12, there will be at least one club guaranteed from each country.
"In year one, the 20th place would be allocated through a play-off match between the seventh-placed PRL and LNR clubs.
"The secondary competition would consist of up to 20 clubs made up of the remaining 18 PRL, LNR and Pro12 clubs. Two places could be allocated to clubs qualifying from a third competition.
"There is also consensus that distributable revenues generated through the competitions would be divided one third, one third, one third per league with the stipulation that monies to be received by the Pro12 countries would not be less than the current levels."
The PRL, the LNR and the four Welsh regions have not yet been consulted on the proposals and it is unclear who will run these proposed European club competitions from next year.