Launceston skipper Ben Hilton appeals for 'positive' support
Last updated on .From the section English Rugby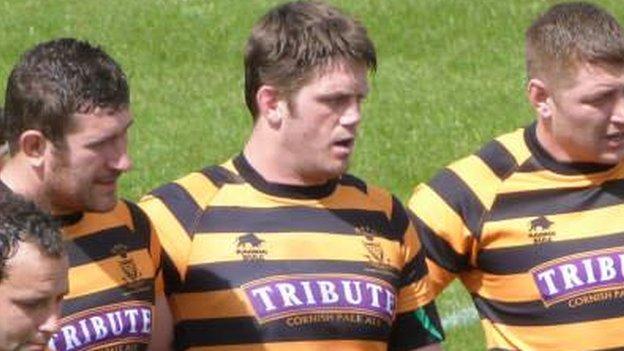 Launceston captain Ben Hilton has appealed to the club's fans to be more "positive" in their support at matches.
Hilton said some fans have been venting their frustrations on players, causing confidence levels to drop.
"The morale throughout the squad is somewhat fragile," Hilton wrote on the club's website.
"Senior players are trying to shore up the level of confidence in the players. But that's increasingly difficult without your wholehearted support."
Launceston - who take on second-placed Cambridge on Saturday - have had a mixed start to the season in National League Two South, winning all their home games but suffering defeats in all four away matches.
"Without the 'support' I am left dead in the water when I address the team about the meaning of climbing inside a Launceston shirt," continued Hilton.
"I too accept your frustration at times in our performance. Believe me, I take it all home in a rucksack and stew in it until the following Saturday.
"If you feel that frustration creeping in, please think about the most 'positive' way you can vent that frustration. I have been working on that myself and individually attempting to create more positivity among the players.
"If they make a mistake, they are very aware of that, as would you be if you were in that situation. Sometimes one player's missed tackle is another player's great attacking line.
"We commend the commitment shown to be a Launceston player and as a club we support everything and everyone attached to it with positivity, energy and respect. This is reciprocated by the players."
Talking to BBC Radio Cornwall, assistant coach Tom Rawlings said the performances on the pitch were showing real signs of improvement.
"Even though we didn't get the result last weekend against Clifton we still came away with a bonus point and it was much-improved on the previous week," he said.
"Cambridge will be very tough. They will bring down a big pack and they're a very decent outfit.
"But we're at home and we've won three out of three at home. We'll take it to them - that's the only way to approach this game."