Pro12: Justin Tipuric relieved after Ospreys win ends 'hard two weeks'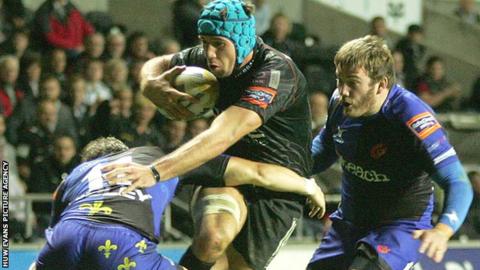 Justin Tipuric says the Ospreys owed a win to their fans after a disastrous start to their Heineken Cup campaign.
Wales and Lions open-side Tipuric scored two tries in Friday night's 40-17 Pro12 triumph over the Dragons.
The bonus-point win ended a run of three consecutive defeats, including Heineken Cup losses against Northampton and Leinster.
"It's been a hard two weeks to be honest, we've been so frustrated that we've let ourselves down," said Tipuric
"We've let the fans down, let the coaches down. And it's been a hard two weeks and we've just had to get down [to] working hard."
Tipuric was named man of the match after rounding off a break by Matthew Morgan to claim his first try, before scoring a superb individual touchdown in the second half.
Dragons assistant coach Kingsley Jones described both tries as "genius".
"I think their first two tries were probably from individual genius," said the former Wales international.
"Matthew Morgan taking advantage of a miss-match with a fantastic break and Tipuric - everything he touched tonight turned to gold."
Tipuric, however, said the win owed as much to sweat as it did to flair.
"It's been a hard two weeks and we've just had to get down working hard," he added.
"There's been so much extra training individually which has got us this win."