England v Australia: Billy Vunipola hungry for England success

By Tom Fordyce
Chief sports writer
Last updated on .From the section Rugby Union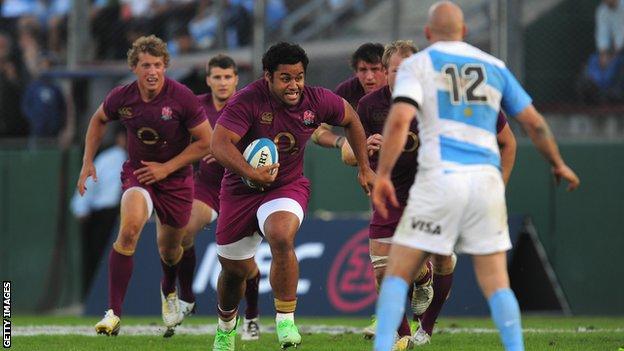 There are many striking things about Billy Vunipola - his near 20-stone frame, his remarkable journey from a small Tongan village to the England team via some very steep hills in south Wales, the fact that, at just 20, he plays with the buccaneering style and menace of a man with many times his top-flight experience.
Perhaps the most startling, however, is the thought of how much food his parents used to have to lay on the breakfast table every morning.
Opposite Billy would sit Mako, big brother in every way - two years older, heavier and lumpier, now England's loose-head prop. At the head would sit their father Fe'ao, a former Tonga international, still a thunder-thighed man with admirable appetite, sisters Tiffany and Ana in close order. Then their cousins would sit down: future Wales number eight Toby Faletau, and his equally active elder brother Josh. Plus their other cousins, who generally seemed to be passing too.
"It got to the point of me eating anything that was left," Billy remembers, as one pictures entire loaves of bread toasted, fatted calves being slaughtered for the prodigious appetites of the sons. "I'm just glad my parents took care of the bill."
The explanation for that incessant hunger?
"Our house in Pontypool was on the corner of a block. On each end was a hill. What we used to do was run around the block, with our dad timing us. So we would run up the hill, run down the other one and sprint across. And top left was an even bigger hill, and we'd finish off up there. It was massive."
You were how old? He pauses. "Six. Yeah. When we first did it, my mum and dad got in a few fights, because it sounds pretty weird that you're making six-year-olds do those sorts of runs."
Billy has grown up accustomed to the atypical. Born in Sydney, he was sent back to Tonga to be raised by his grandfather Sione, himself a former Tongan international, while his parents completed their university degrees.
When Fe'ao, along with Toby Faletau's father Kuli, were brought over to Wales by Jonah Lomu's former agent Phil Kingsley Jones to play club rugby, the family were reunited in the Pontypool suburb of Griffithstown, the boys and their three cousins fighting for one of the four beds in the converted garage.
Set apart by both their Pacific Island heritage and size, the young Vunipolas flourished, driven on by their father, playing touch rugby every night in the park with cousins Toby and Josh, representing Wales at age-group level throughout their teens. When work moved the family to Bristol [their mother Singa is a Methodist preacher] they rose through that club's academy, sporting scholarships following - Mako to Millfield, Billy to Harrow.
If it sounds convoluted, the child saw it with the simplicity an adult never could.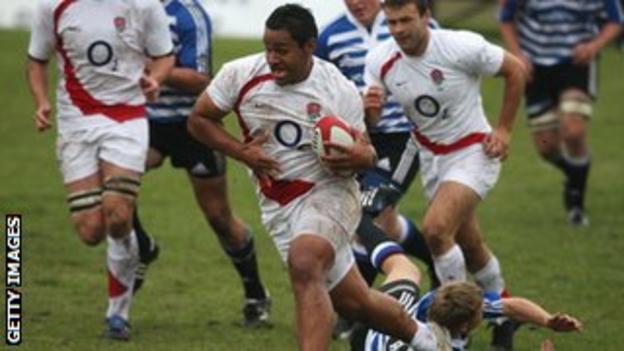 "From the age of one to six I don't really remember anything, to be honest, except running around in a hot country. And then, after that, it was running around in a cold country."
After leaving school, Billy was picked up by Wasps, Mako by Saracens. As Mako was playing in all three Tests for the British and Irish Lions this summer, Billy was making his England debut on the tour of Argentina.
Both are expected to be selected by head coach Stuart Lancaster for his starting XV against Australia at Twickenham on Saturday. If the brothers could in theory have played for any of three other countries - their ancestral home of Tonga, their Antipodean birthplaces [Billy Australia, Mako New Zealand], or Wales, the country where they grew up - it is to England, the nation where they matured, that they feel true loyalty.
Both still have noticeable Welsh accents. Their father was also keen on allegiance to red dragon rather than red rose.
"A lot of Welsh people helped us to get where we were," says Billy, "and he felt a lot of loyalty towards them. But me and my brother felt it would be wrong if we didn't play for England. I feel part of an English identity."
Billy was delighted by a visit to the England camp last week from Bill Beaumont and Fran Cotton ["I knew Fran from that famous picture… he was a bit cleaner the other night"] and talks in awed tones of James Peters, the first black man to play for England more than a century ago.
Neither is he intimidated by the thought of running out in front of 80,000 people, with 20 of his relatives in the Twickenham stands to watch his home debut. Ever since he can remember, the family have been challenging him in new and unusual ways.
"I was probably a bit overweight as a kid, because when we first came over we were a bit spoilt. My mum was always taking us to McDonald's and we were eating all that stuff. I always had to work harder than skinny boys - that was the only thing I hated about being big.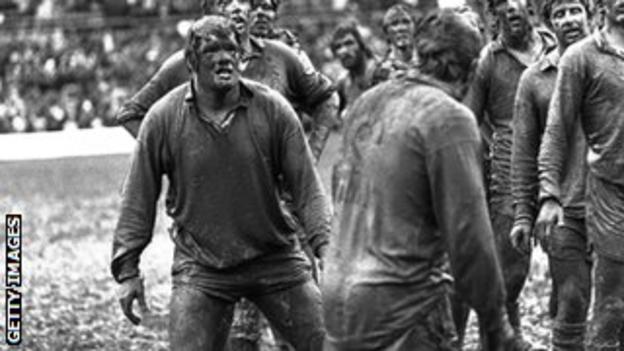 "I used to just walk around in games when I was young. Then my uncles would offer to give me £10 afterwards, and so I'd start running and score four tries."
He played his first senior match, for the grown men of Burnham-on-Sea, aged 15.
"My dad was working nearby, and he took us along thinking it would be a good chance for us to play against men and see if we were scared. I was so scared but I didn't want to show him that.
"I played 12, outside my uncle. We ran up to tackle someone, and all I could hear was my uncle shouting 'hit him, hit him!' But I was too scared to tackle him, so I just let him run into me. I didn't see if it was a big tackle or not, but I could tell it was good because my uncle tapped me on the head."
Then there was his first pre-season at Wasps, fresh out of school, thinking his first day would be a gentle introduction to young peers. Instead, he found himself under the thundering hooves of grizzled forwards Simon Shaw and Dan Ward-Smith.
"I thought I was going to watch training. The first thing I know, they say: 'We're doing tackle drills - put a suit on'. I said: 'Are you looking at me?' I don't think anyone knew how old I was."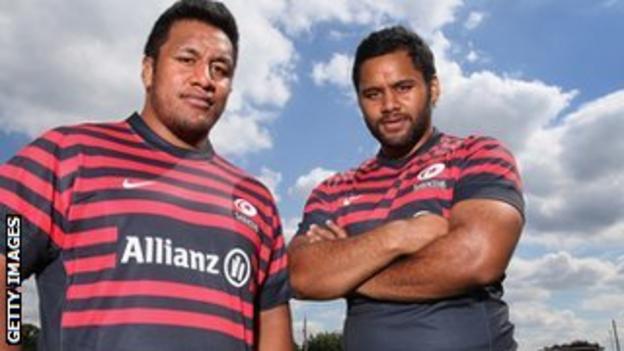 Vunipola's size has fooled more than one, even if he could not quite pass for 35 as could the prematurely weathered Mako.
For all his bulk he is the gentler sort of giant, praying before each game, glad he has now joined his brother at Saracens so he will no longer have to battle against him.
On the pitch he is a calmer figure this year than last, learning from older, wiser heads at the club like Steve Borthwick, Kelly Brown and Jacques Burger ("Jacques doesn't say a word, but you can tell by his tackles that he's going after someone").
Even the prayers, insisted upon by his mother, are less those of a man on a mission from God than a young kid still desperate to improve ("You're just asking for an opportunity to show people what you can do, not asking for a win").
And should he claim the number eight shirt for England ahead of Ben Morgan, and come up against his cousin Toby in the same shirt for Wales - what then? How would that feel for someone whose deepest loyalty, quite rightly, is to his family?
"I wouldn't take a backward step. But I wouldn't go out of my way to take his head off. Not that we would do that anyway." He guffaws. "Or maybe we would…"