Jeremy Guscott Q&A: Gatland, Northampton and Mike Phillips

By Jeremy Guscott
Rugby Union analyst, BBC Sport
Last updated on .From the section Rugby Union373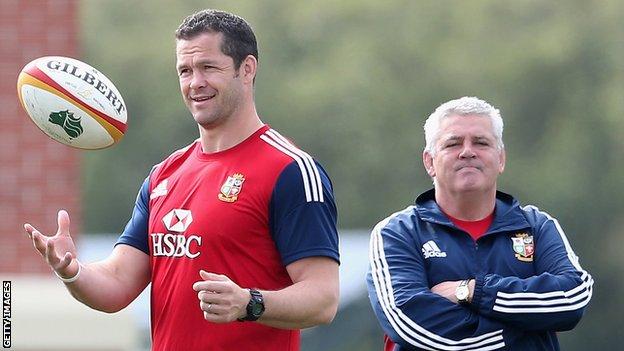 Among the topics making the headlines this week are:
- Whether Warren Gatland hired Andy Farrell to spy on England
- The chances of every Englishman at Northampton making the England squad
- Why England captain Chris Robshaw gets so much stick
- Whether Gloucester's season is over already
- Bayonne's sacking of Mike Phillips
Jerry answers questions posted on the website at the start of every week - entries are now closed for this Q&A. This week's answers appear below.
Hi Jerry, what did you think of Warren Gatland's comments on using Andy Farrell during the Lions tour to "spy on" England? JamesB
Hi JamesB, sounds like another example of Gatland thinking: "Let's have some fun with the media and play a few mind games with England." There were more Wales lads in the Lions squad, so it will have been a better intelligence-gathering exercise for Andy Farrell and Graham Rowntree.
Hi Jerry, what do you make of the whole Mike Phillips scenario, with the Wales scrum-half being sacked by Bayonne? Where do you think this leaves him at this point in his career? Kentendo
Hi Kentendo, I'm a bit confused, with all the different reports having slightly different stories. If it's confirmed Phillips did turn up for work under the influence of alcohol then, given the other indiscretions that he's been involved in at his time with the club, I'm not surprised the owner wants to get rid.
I seriously don't believe he will be short of offers as long as he can assure his new employers he will act professionally.
Hi Jerry, as a Northampton fan I was delighted by our performance at the weekend. We dominated play and our England contingent put in very good performances. Do you think that Lancaster may well pick every Saint in the squad (Dylan Hartley, Alex Corbisiero, Courtney Lawes, Tom Wood, Lee Dickson, Luther Burrell and Ben Foden) to play in the first match? Phil
Hi Phil, that would be cool for Saints. However, I don't think Burrell will make the match day squad of 23; he can only really cover inside centre. Personally I would have Harlequins' Danny Care on the bench instead of Dickson. Tom Wood will definitely play, as Corbisiero would have done had he been fit.
Tom Youngs just shades Hartley for me at the moment at hooker but I wouldn't be surprised if the latter is picked if fit. Lawes is on form but Joe Launchbury and Geoff Parling haven't played badly enough as the second row partnership to be dropped. Foden is another hard choice - you get the feeling Mike Brown will start at full-back but Foden has a good chance of being on the bench.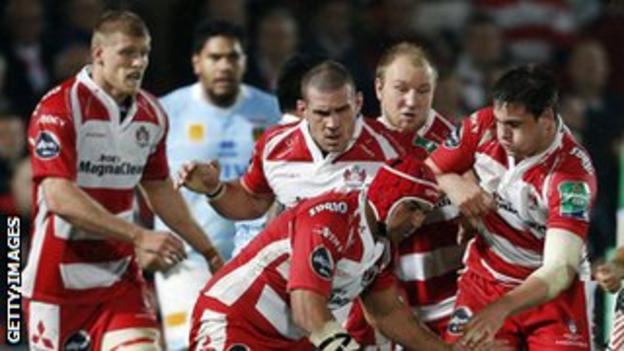 Hi Jerry, I think our season is over already at Gloucester. Do you agree and what needs to be done with our front five? Glos1974
Hi Glos1974, the top six currently are Sarries, Saints, Bath, Chiefs, Tigers and Quins. It's hard to see Gloucester breaking into that group but it's not impossible yet. If you have a lightweight front five, your fitness and technical ability have to be that much better than the rest, that would be my starting point for Gloucester.
Hi Jeremy, I believe Ben Foden is a world-class full-back. Why is Mike Brown being selected ahead of him for England? blues1707
Hi blues1707, unfortunately for Foden, Alex Goode and Brown got in for last autumn's series and their club form has been good in the meantime. I believe Brown deserves his crack at full-back for England, he's been the most consistent performer.
I think Foden should be second choice and Goode third. Goode could be so much better if he had the mind to attack more - he's got the better all-round skill set but hasn't harnessed it to best effect yet. The reality is that Stuart Lancaster has three good full-backs, all playing high-calibre rugby. He just has to make the right choice.
Do you think there is an option of fly-half Owen Farrell starting in the centres against the Aussies? horsh2
Hi horsh2, I really don't understand how some people believe Farrell would be a better choice at 12 or 13 for England instead of all the natural 12 and 13s currently playing in those positions. Farrell is really too slow and too light to play in the centre at international level.
He might be quicker than Brad Barritt but doesn't tackle or carry as well and he might be heavier than Kyle Eastmond, but he's nowhere near as quick and elusive with his running.
Hi Jerry, why does England captain Chris Robshaw get so much stick? Prior to last weekend's Premiership round, he had made the most tackles and carries and was joint second for turnovers won. Even in his performance for Harlequins against Clermont, he made 16 carries and 10 tackles (match best). People seem to forget Richie McCaw labelled him a world class seven last year! Calculator
Hi Calculator, I believe the stick has largely subsided and most people have come to terms with Robshaw being chosen and the reasons behind the selection. No-one at open-side is playing better than he is and so his selection is massively justified.
If England lose, he will get some stick again but the facts are there for everyone to see. There isn't another open-side playing out of his skin and demanding the shirt - if there was, he'd be playing instead of Robshaw.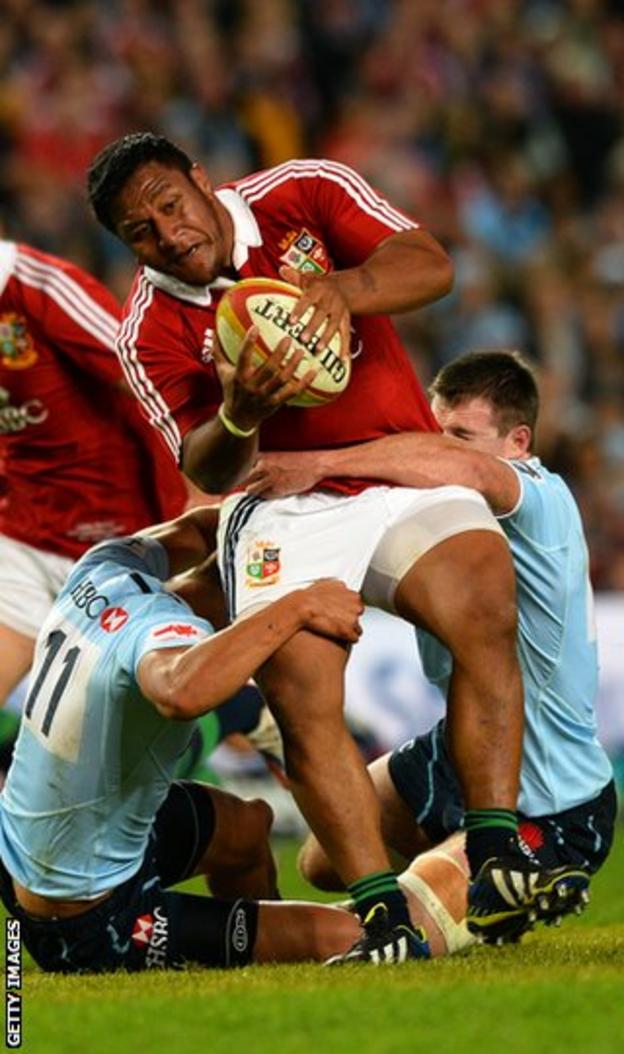 Hi Jerry, with Alex Corbisiero out injured, that leaves two options at loose-head. Mako Vunipola looks surprisingly mobile for his size and offers a lot in the loose but I still feel he is a bit suspect at scrum time, whereas Joe Marler is more solid in the scrum but doesn't get as many turnovers as Mako. I now you were only a back and not used to the dark arts of the front row, but who would you pick? RealRugby
Hi RealRugby, my initial instinct was to go with Vunipola before deciding to look at some statistics from the Premiership this season. Both have played five games (Marler 280 minutes and Vunipola 226 minutes). They've both scored one try each, while Marler has carried 22 times and gained 64m and Mako has carried 20 times and gained 54m.
Marler also passes more and has a higher tackle success - at 95% to 85% - but Vunipola has won more turnovers and has a better discipline record in the Premiership. After combining the information gleaned from the stats with my instinct as a rugby player, I would still pick Vunipola because of his success on the Lions tour.
Hi Jerry, what chance do you think Ireland have of having a successful autumn? I think we should beat Samoa but will lose to New Zealand. What are our chances against Australia? Badgerguy
Hi Badgerguy, I agree it's unlikely Ireland will beat New Zealand. Samoa will be a good challenge if they are at full strength, but Ireland should beat them at home. Australia are doable - we all know that - but it's not a foregone conclusion.
The Aussies will be into their stride by the time they meet and should be coming off a win against Italy. I'm interested to see the new Ireland under Joe Schmidt - will he be the one to finally blend all the Irish players into one consistent unit? If he does, Ireland will win.