Mike Phillips: Wales coach Warren Gatland offers backing
Last updated on .From the section Rugby Union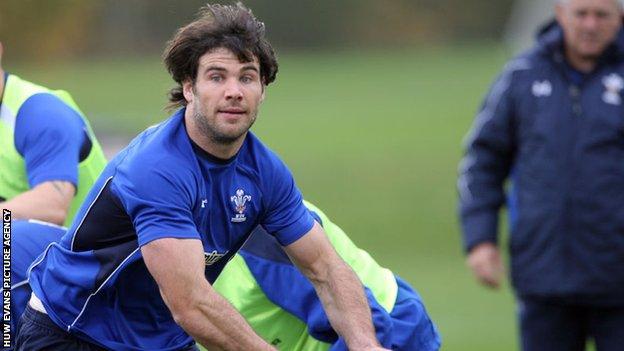 Wales coach Warren Gatland says Mike Phillips can count on his support in dealing with off-field "issues".
"He's aware he's not perfect and we do a lot of things to support him as much as we can," Gatland told Radio Wales.
"All I can comment on is the way he conducted himself on the Lions tour - he was great."
Gatland confirmed he had spoken to Phillips on Monday.
"He reiterated exactly what's been said in the statement in terms of being very disappointed and taking legal action," said Gatland.
"I suppose for us it's just waiting to see what happens.
"I think in the last season or two he's been fantastic in the Welsh squad and I'm sure that in this campaign he'll do very well.
"Let's not hide away from the fact there's been issues in the past and he's aware of that and I think he's working hard to try and address some of those things. I'm confident that he'll be great for us in this campaign."
Phillips was dismissed by Bayonne after they accused him of reporting for a video analysis session while under the influence of alcohol.
Two fellow players, New Zealand back-rower Dwayne Haare and fly-half Stephen Brett, were fined but not suspended.
Phillips joined Bayonne from Ospreys in 2011 and was under contract with the French Top 14 club until June 2014.
He was suspended by Bayonne last year, for off-field misconduct, and by Wales in July 2011 following an incident in Cardiff city centre when he was involved in a confrontation with a doorman.
Gatland believes the row with Bayonne will not affect Phillips's form for Wales in the autumn internationals, which kick off against South Africa on 9 November.
"Look, he's got a couple of issues that he needs to address and sort out but he's not the only one in sport that has things that need to be addressed and we'll continue to support him as much as we can," added Gatland.
"I think he's professional enough to come in and want to prove what a good player he is, what a competitor he is, how important he is to the Welsh team.
"It will be interesting to see how he'll perform in the next month because knowing him as an individual and how competitive he is he'll come out there and I'm sure he'll play exceptionally well."