Jim McKay: Ex-Cornish Pirates coach relishes Australia challenge
Last updated on .From the section Rugby Union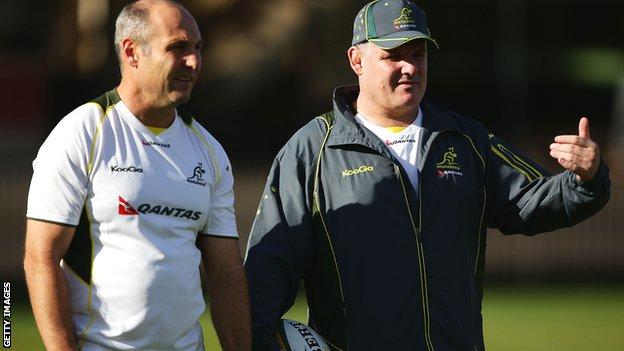 Former Cornish Pirates boss Jim McKay says he is relishing the challenge of his role as Australia's attack coach.
McKay, who coached the Pirates for three-and-a-half years, is part of Wallabies coach Ewen McKenzie's coaching team.
"It's been a real good challenge," he told BBC Radio Cornwall ahead of Saturday's Test against England.
"There's a short preparation time and the trick is to mould the guys together to find one cohesive way to attack."
He added: "We're starting to move in the right direction now.
"In the last two games we've scored 10 tries, which is really good and the attack's starting to evolve and progress."
McKay left the Pirates in 2008, having led them to third place in National League One in the 2005-06 season, which at the time was the Pirates' highest position in English club rugby.
The Australian also led his side to a famous victory at Twickenham, beating the Exeter Chiefs to win the National Trophy in 2007.
"I clearly remember Cornwall and the people themselves really fondly," said McKay.
"I'm still friends with [Pirates captain] Gavin Cattle and I always keep an eye on their results and see how they're getting on.
"I try to visit every year and get down to watch a game and chat with the supporters.
"I certainly developed as a coach there and I like to think I helped the club progress as well."
McKay has worked alongside McKenzie with the Queensland Reds for four years and was brought in to the Test set-up when the former Wallabies prop succeeded Robbie Deans at the helm in July.
"Ewen had earmarked me, I suppose, and he'd been in line for a number of years to be the next national coach," said McKay.
"He showed some good confidence in me which is great and he was keen to bring someone in who knew how he worked and of course he knows how I work.
"We talked about it for a while and when it happened it was great - it's a really privileged position to be in."
McKay said the prospect of facing England at Twickenham on Saturday would be the highlight of his time with the Wallabies to date.
"I'm very proud and and excited about the game - even more so than the games I've been involved in so far," he said.
"I can remember watching those games as a little boy, so to be playing England at Twickenham is a special occasion. I'll have to pinch myself and I can't wait."
McKay said that working with Test-standard players was a "privilege" but that there were real differences between coaching at club level.
"The main difference is the preparation time," he said.
"At international level, the players have had a full season with the clubs, so the way they've been coached and their playing philosophies in attack and defence are very much ingrained.
"When you come together you've got to merge all that together. The reality is you have to get some certainty and clarity and get them playing together in a cohesive way."