England 20-13 Australia: Hosts look to future with nod to the past

By Tom Fordyce
Chief sports writer
Last updated on .From the section Rugby Union475
Anniversaries can be difficult things to get right. You can overdo the celebrations, get the gift wrong, end up bickering over old arguments and wondering where the good times went.
So it was at half-time at Twickenham on Saturday, when England's current beaus trudged off seven points down to a party-pooping Australia just as the World Cup-winning darlings from 2003 walked out for a triumphant lap of honour.
Twickenham Man responded as he so often has over the past decade: with a wistful look in his eye, a heavy sigh and a quiet lament for those good times that have often seemed so far away. Didn't we used to look so good together?
In the middle of the pitch, watching the front row limping round and the backs take pictures of themselves on their mobile phones - some things never change - sat the current Wallabies team, glowering at the festivities, stoking their engines.
It was like going out for a nice dinner to find your angry ex sitting at the next table. Happy anniversary, mate, and you can stick your commemorative chariot up your waxy jackets.
Except then, to first slow surprise and then rapid delight, the class of 2013 decided to change the tune.
Sparked by the coruscating running of full-back Mike Brown, aided by two benevolent decisions from the match officials and powered on by two pieces of opportunism from skipper Chris Robshaw and fly-half Owen Farrell, they turned that seven-point deficit into a seven-point lead and then controlled the remaining minutes with muscular force.
Whether it leaves them any closer to replicating the deeds of their vaunted predecessors when the World Cup comes back to west London in two years' time will take longer to discover.
World Cups are won on consistent excellence. They also require a team to prosper in adversity, which means some will read far more into England's crushing defeat in their Grand Slam decider in Cardiff last March than they will into the fact that they have now won eight of their last nine games.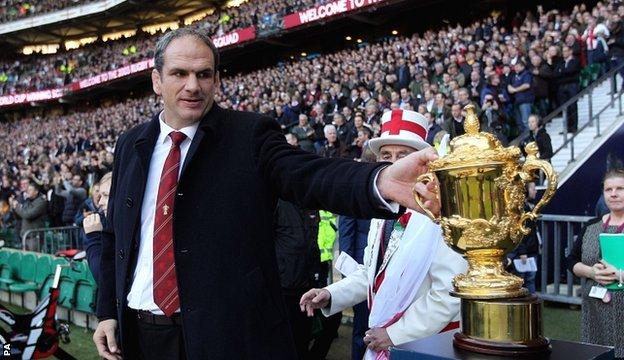 Opponents, too, come in lumpier form than an Australia side that have won only three times all year and were flayed to all corners by the bigger boys of the recent Rugby Championship.
What will please Stuart Lancaster and his coaching team is that comparisons with the class of 2003 are not entirely invalid.
England, as in the good old days of white orcs and back-row black arts, dominated in the scrum, even if Farrell's wayward place kicking meant that superiority was not translated into penalty points in a disjointed first half.
In the loose their rumbustious forward power was often too much for the weary Wallabies. At the breakdown Michael Hooper was seldom allowed the freedom which he used to such critical effect in the corresponding fixture 12 months ago.
Brown, restored to his natural berth at full-back, bounced out of tackles just as Jason Robinson used to. If he was lucky that the touch judge failed to spot his toes in touch at the very start of the move that would end with Robshaw's try, his sticky hands under the high ball and shimmying counter-attacking brio deserved their reward.
When his team-mates tired, there was a depth on the replacements bench that bodes well for the sapping battles that lie ahead. To score 14 unanswered points is indicative of both composure under pressure and the ability to harvest a victory from unpromising soil, two traits that helped define the vintage of 2003.
Equally, Lancaster will be acutely aware of the many less flattering contrasts that can easily be drawn.
For all the talk of building towards 2015, there is still a sense of a team looking for an identity, even if the core appears to be coming together.
Only four of the XV that started on Saturday had also begun in the defeat a year ago. The average number of caps in this England team was 14; in November 2001, in the same fixture against Australia two years out from that World Cup, the average was 26, even with the grizzled Martin Johnson and Lawrence Dallaglio missing.
Injuries have forced Lancaster's hand, denying him five British and Irish Lions who might otherwise have started. But his midfield combination looked exactly what it was - inexperienced and untested, with Billy Twelvetrees in particular struggling to find a cutting edge in attack and profligate in defence.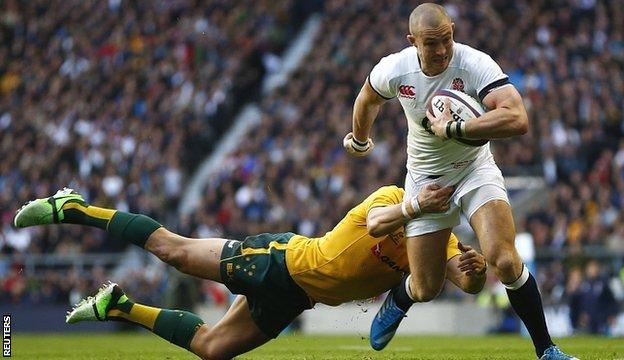 On his inside Lee Dickson was seldom able to create the rapid tempo for which he was picked, his usually metronomic pass out of rhythm and his lack of a kicking and running game making him too easy for the opposition to read.
Tom Youngs was formidable in the scrum and industrious in the loose. But, just as Steve Thompson could occasionally be in the early part of his England career, he was once again inconsistent with his line-out throws. Farrell too draws more plaudits for his strength of character than his control of a game.
Lancaster, who is likely to make changes for the visit of Argentina next week, will concentrate on the green shoots.
Not since the build-up to 2003 have an England side won five matches on the bounce at HQ. If that team went on to make it 22 consecutive victories, and if the arrival of the All Blacks in a fortnight is likely to bring the current run to a swift conclusion, the head coach is still pleased with the association.
"We were aware they were in the crowd," he said of Johnson, Dallaglio and the rest. "We wanted to do them proud, because their achievements have inspired a lot of this team."
Almost entirely lost in the excitement of seeing Jonny Wilkinson and Sir Clive Woodward back at Twickenham was another, equally fitting World Cup anniversary.
While the actual anniversary of the 2003 final is still a couple of weeks away, Saturday marked exactly 22 years to the day since Australia silenced Twickenham by snatching away the 1991 tournament from their hosts.
Ewen McKenzie, coach today, part of the winning side that afternoon, was in no mood to raise a glass afterwards, aware that for all the magic that flowed from the conjuror's hands of Quade Cooper, his penalty miss when Australia led 13-6 was possibly the decisive moment in a topsy-turvy contest.
History can sometimes be a heavy burden. There have been times in the past decade when that heady night in Sydney has seemed to cast a long shadow over every England team that have followed.
Observances complete, both coaches will be glad to look to the future now rather than back at a past which may be impossible to recreate.