Plymouth Albion must learn to protect leads - James Shanahan
Last updated on .From the section English Rugby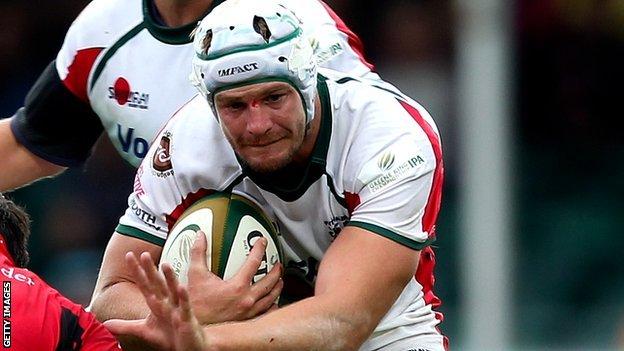 Plymouth Albion coach James Shanahan has urged his side to get out of the habit of allowing big leads to slip after their 38-31 defeat by Bristol.
Albion led 21-5 before Andy Robinson's team clawed their way to victory.
"We're a new team and we're learning but we need to learn a little bit quicker," he told BBC Radio Devon.
"We should have beaten Moseley, London Scottish and now Bristol - that's eight points we've left on the field at Brickfields now."
Earlier in the season, Albion drew 34-34 with Moseley having led 31-6 and lost 22-10 to London Scottish after having a player sent off and another sin-binned.
"That's the difference between where we are at the moment and being a top four side," said Shanahan.
"It's massively disappointing. We put Bristol under a lot of pressure early on and scored three good tries and were in a position to kick on and win the game.
"In the end we're very disappointed not to get the five points - but at least we got two."
The two bonus points were earned by scoring four tries and for only losing by a seven-point margin.
"The boys will go out there and try to score four tries every game, and if we do that we'll probably win more games than we lose. But our second-half game-management was poor and it allowed Bristol to get into the game and ultimately get the victory."
He added: "I'm hoping that this time next year, or after Christmas, these are the type of tight games that we get the wins rather than these close defeats, so it's frustrating, but there's lots of positives.
"[Bristol coach] Andy Robinson said afterwards that he was very impressed with us and we played some great rugby. We did stretch them, but we should really have got the victory."