Wales v South Africa: Heyneke Meyer expects 'huge challenge'
Last updated on .From the section Rugby Union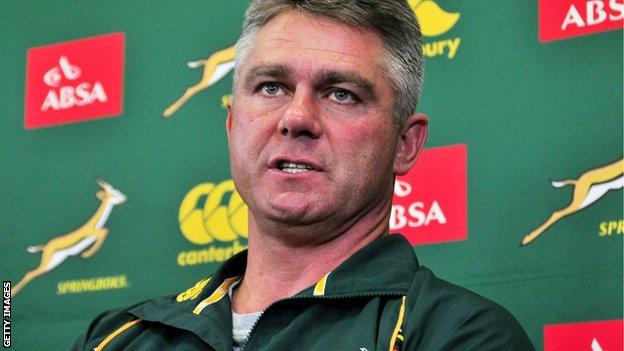 South Africa coach Heyneke Meyer is viewing the clash against Wales on Saturday at the Millennium Stadium as a "huge challenge" for his players.
Meyer says he is treating the Welsh with the utmost respect on the opening game of the Springboks' tour.
"Wales are an unbelievable team, they have shown they can beat the best," insisted Meyer.
"They are a very balanced side, big backs, big forwards, great rushing defence and they can score tries."
The South African added: "We see this as a very big game for us, a huge challenge.
"They have been together for a while now and have a simple game-plan but they execute it very well. "
And Meyer does not expect the Springboks to be allowed to dictate terms and be able to play an expansive brand of rugby which saw them score the most points of any team in the Rugby Championship.
South Africa scored 23 tries in six games finishing second behind New Zealand but well ahead of Australia and Argentina.
"This is a totally different game than the Rugby Championship. It's more of an arm-wrestle," said Meyer.
"We have to change the way we play, we have to be more clinical and execute better."
Meyer has told his players that the tour will be viewed as an audition for the 2015 World Cup in England.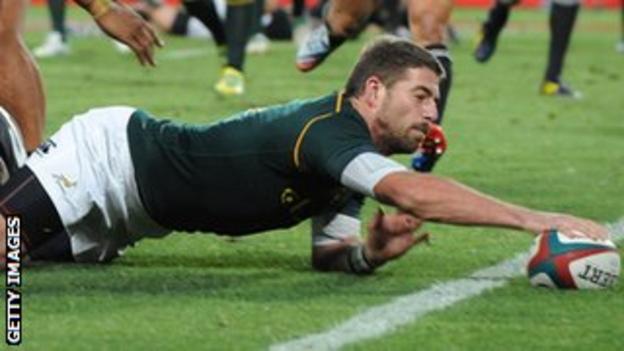 And those players who are not able to adapt to northern hemisphere conditions face being dropped.
"In our last end of season tour we learned a lot about our players. A lot of players from that tour aren't here any more," Meyer said.
"It's very important to have the World Cup in the back of your mind, to see which players can play at this level against three tough teams and in these difficult conditions.
"By the end of this tour we should be close to knowing 25 of the 30 players who will go to the World Cup."
Meyer also gave a frank assessment of the problem areas in his side and said turning pressure into tries is one of his major concerns.
"In these conditions you are not going to have as many opportunities so you have to convert those into points," said Meyer.
"Against New Zealand at Ellis Park on 5 October we had 17 line-breaks and scored just four tries, they had seven line-breaks and scored five tries. That's not good enough, we get a lot of opportunities and don't use them."