Adam Jones: From 23-stone slab maker to Wales great
By Chris Jones
BBC Radio 5 live
Last updated on .From the section Rugby Union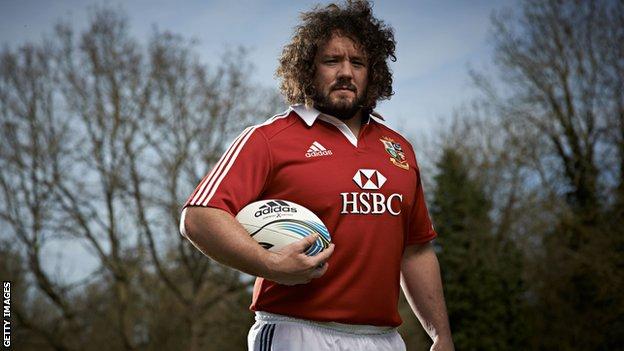 When Adam Jones was 19 - an age at which George North was already a fully-fledged Wales international - he was better known for his perm than his potential and made patio slabs for a living.
"I was playing district rugby at the time but was even fatter than I am now," he remembers.
Before starting the slab-making job, he had actually been even heavier, weighing in at 23 stones.
Fast forward 13 years and Jones is now a legend of Welsh rugby. On Saturday against South Africa, the 32-year-old will win his 89th cap. In the summer, he went on his second Lions tour, starting all three Test matches as Warren Gatland's men claimed a famous series win.
Jones is one of only six Welshmen in the post-War era to have won three Grand Slams, current team-mates Ryan Jones and Gethin Jenkins also emulating Gareth Edwards, Gerald Davies and JPR Williams from the 1970s legends.
He has also claimed four Celtic League titles with the Ospreys.
So how did such a dramatic transformation come about?
His big break came when the Welsh Rugby Union set up an Under-21 league and Neath invited local boys, including Jones, to train with them.
"I was lucky I was plucked out by Neath because of this Under-21 league," he says. "I'm confident I wouldn't have been spotted otherwise."
After a couple of games for the Under-21s, he started training with the first team, and a year later gained a professional contract.
Rugby wasn't his priority in life though, which he believes was probably a good thing.
"I never came through the academy structure," he says. "I love rugby, but there are bigger things in life.
"Even when I turned professional with Neath, there was an amateur culture. I can't imagine many of the boys these days having ever had a job. Making slabs was hard work, starting at half seven every day."
At this time, he felt he was "never destined to play for Wales", but an international call-up came a year after turning pro. He was named in the 2003 World Cup squad and by the start of 2004 had secured a starting berth in the Wales front-row.
Even then, he didn't feel he belonged.
Coach Steve Hansen didn't think he was fit enough to play for 40 minutes, let alone 80, and Jones was regularly replaced after just half an hour of games. It was embarrassing for him and tough for his parents, who came to watch all of his matches.
Even in the Grand Slam year of 2005 - the first time in 27 years that Wales had achieved the feat - Jones didn't rate his own contribution.
"In 2005, I wasn't where I should have been," he says. "There weren't many other props, so I had to play."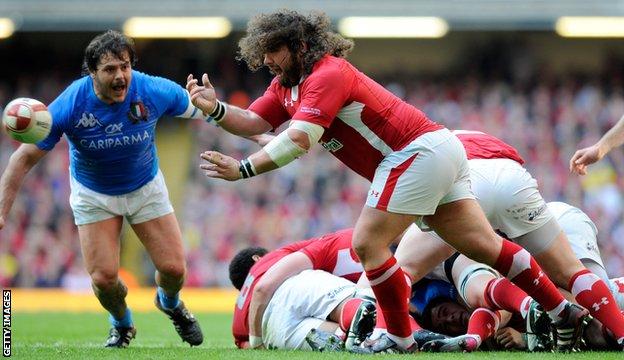 It was the arrival of Gatland as Wales coach in 2007 that proved to be the game-changer for the prop, though.
"In 2004 to 2006, I got into shape a bit, but Gats came in and said if I didn't do this, didn't do that, then I wouldn't get picked," explains Jones.
"At the same time, the former Ireland fitness coach Mike McGurn joined the Ospreys and along with Craig White at Wales they worked my nuts off. I worked hard as well.
"I do appreciate that sometimes I have taken my eye off the ball, but in the last seven years I've worked as hard as I can to be the best I can be and it's gone all right."
In 2008, Wales won a second Grand Slam, with Jones now an established presence in the front row. The following season culminated in a Lions tour of South Africa.
After the scrum faltered in Durban, Jones started the second Test in Pretoria, dominating the Springbok front row in one of the greatest Test matches of all time. When he was on the pitch during the first two Tests, the Lions scored 30 points to South Africa's 15.
Four years later, he did the same to Australia, this time in a winning series.
Indeed, Jones' rise in prominence over the last decade has coincided with that of the prop-forward in general. Even with the new scrummaging laws, which are designed to limit the impact of the engagement, good props remain at a premium.
And while injuries to backs Alex Cuthbert and Jamie Roberts will be keenly felt by Wales this autumn, the fact that the all-Lions front-row of Jones, Richard Hibbard and Gethin Jenkins is unscathed will perhaps be the greatest plus of all.
Despite his stature and experience, Jones is content with his role in the shadows cast by captain Sam Warburton, full-back Leigh Halfpenny and winger George North.
"Look, you've got probably the best full-back in the world in Halfpenny and he's only 24. Sam is only 25," he says. "They get the headlines because they are fantastic players. I'm not massively bothered about it."
Underrated and understated he may be, but it was Jones that London Mayor Boris Johnson hunted down when the Lions visited Downing Street earlier in the year.
"[Lions manager] Gerald Davies' wife came rushing over to me, saying Boris was trying to find me for a chat. It was good, he is a good lad," says Jones, who has received good luck calls from Johnson before high-profile matches with Wales and the Lions.
Johnson also supplied a glowing tribute to Jones - "Adam plays rugby with fire in his belly, steel in his spine and that mad mop of hair on his head," he wrote - in the player's testimonial brochure.
Saturday marks the start of his final push in a Wales shirt. He intends to retire after the World Cup in 2015, hopefully with a winner's medal and 100 caps in the bag.
"If I could walk out in Cardiff on my 100th cap, with my daughter, that would be brilliant," he says. "When I was subbed after 30 minutes, it can't have been easy for my parents. To be in the crowd when I was maybe getting abused can't have been nice. For them, it will be pretty special."
And will he accept that he is one of the all-time Welsh greats?
"I'm not sure about that," he says. "In stats, maybe. I will look at it when I finish, but when you consider where I came from, not destined for anything, it's surreal what's happened, like going to Downing Street and meeting Nelson Mandela.
"Some of the people you meet and the benefits you get from rugby are fantastic. I'd never have dreamt of it."
From patio paving to banter with Boris, it's been a remarkable journey.
Listen to an interview with Adam Jones in 5 live Sport from 2100 GMT on Friday, 8 November as part of a preview of this weekend's autumn Tests