Wales v South Africa: Warren Gatland primed for next mission

By Ross Harries
BBC Sport Wales Scrum V presenter
Last updated on .From the section Rugby Union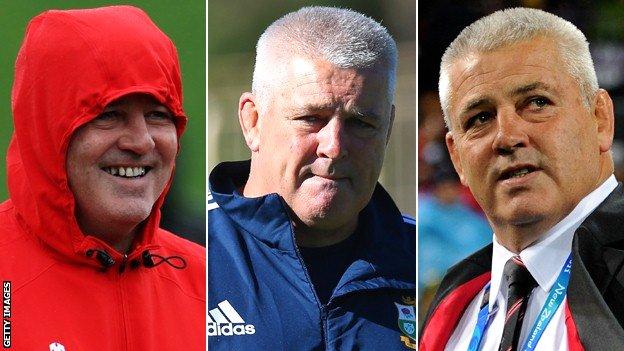 A couple of weeks relaxing under the Fijian sun. Then a trip to New Zealand to watch his son play fly-half for New Zealand schools.
That was how Warren Gatland spent his down-time after six tumultuous weeks on tour with the Lions in Australia.
But his restless mind was already plotting. Even on the Sunday after the stunning series-deciding victory in Sydney, as he addressed the media while the bulk of his squad were still celebrating on Bondi Beach, Gatland was already talking about his day job.
Any concerns that his sabbatical with the Lions would mark the beginning of the end of his time with Wales were dismissed there and then.
It gives you an insight into the way the man's mind works. He isn't one to boast of his achievements, nor is he one to bask in their glory.
Even last week he told me he still questioned his Lions team selection, pondered what he could have done differently. Despite the record victory, despite a performance that - in the eyes of most - thoroughly vindicated him, he wasn't prepared to rest on his laurels.
And when he talks about Wales now, it is with a genuine enthusiasm, lavishing praise on his "special players", half a dozen of whom he considers to be "world class".
While he's targeting the 2015 World Cup, he also thinks this squad will be largely unchanged come the 2019 showpiece in Japan. It has an average age of 25, and could be nearing the peak of its powers by then.
It also has an average height of 6ft 2in. Evidence, if you needed any, that these are not small men.
The myth that Wales was not capable of producing big beasts, and was reliant on the mercurial skills of its diminutive playmakers, has been well and truly busted by Gatland. But not necessarily by design.
"It's happened more by mistake than any planning," he said. "Players came along that just happened to be big and physical. But we have put a real emphasis on physical development. Not just size, but power and speed, on being strong and fit.
"On the Lions tour, physically the Welsh players were better than the other nations, you know, in being able to handle the intensity of training - if we did go hard - because they were used to it."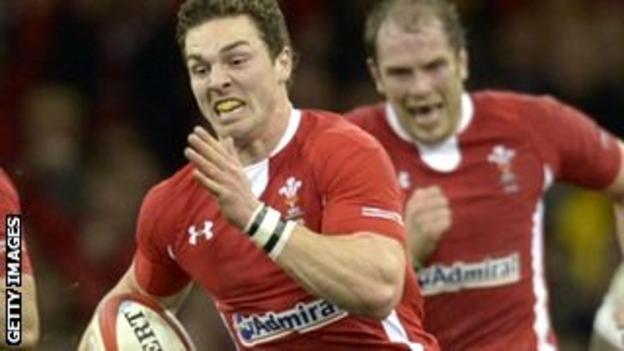 But he bristles at the notion of "Warrenball" - a term coined by the Australian media to describe his philosophy. It hinted at a lack of subtlety, at an over-reliance on brawn over brains.
But Gatland rejects the idea that his gameplan is one-dimensional, and that his players lack the imagination to think on their feet.
"People have tried to pigeonhole us. Part of the game is being able to create quick ball. If we can get Jamie Roberts over the advantage line, and get quick ball, then the instructions to the players after that are 'heads up, play what's in front of you'. If we're on our own goal-line and we have a three man overlap, I expect our players to move the ball."
There is a degree of trust that has been forged between coach and player and the relationship goes beyond rugby.
Coaching and strategy might be his bread and butter, but he has other responsibilities. He's in charge of a group of young men bristling with ambition, ego, and at times, insecurity. It's a potentially volatile mix.
"There's a balance. It's being a father figure who can snap at times, because you've got to be prepared to lose your cool. But it's only effective once or twice a season, and the players have to know where they stand, that there are boundaries."
But while he's more than prepared to dish out a rollicking when required, he knows the caring approach is just as likely to yield results.
"To me, family always comes first. If there are any issues at home, if you've got problems with your girlfriend or your wife, or if somebody's sick, come and talk to us.
"I've seen coaches in the past where players have come to them and said 'my wife's got a scan next week, she's pregnant, can I miss training?' and the coach has said 'no, you've got to be there', and you've seen the negative, adverse effect that's had on their relationship. For me, you give a little bit, you get twice as much back."
So what's he expecting back from his players this weekend? He'll need a truckload of pride, commitment, and passion, if Wales are to finally lay their southern hemisphere hoodoo to rest.
Under Gatland, Wales have faced the southern hemisphere "big three" of New Zealand, South Africa and Australia 21 times.
Only once have they returned to the changing rooms victorious, against Australia at the end of 2008, Gatland's first year in charge.
It's a statistic that pains a man who's so accustomed to success. "I hate losing," he says, the genial smile suddenly disappearing.
And you realise that his refusal to bask in the glory of Lions success is not just false modesty. That has receded in his memory, as much as those sun-kissed Fijian beaches.
For now, it's all about his next mission. Beating the Boks. And if steely eyed determination was all it took to win, you sense the result is already in the bag.
Watch live coverage of Wales v South Africa on BBC Two and the BBC Sport website from 1700 GMT on Saturday, 9 November.
Watch highlights and analysis on Scrum V on BBC Two Wales and the BBC Sport website at 1800 GMT on Sunday, 10 November.