Vern Cotter pleased with Scotland set-up

By Phil Goodlad
BBC Scotland
Last updated on .From the section Rugby Union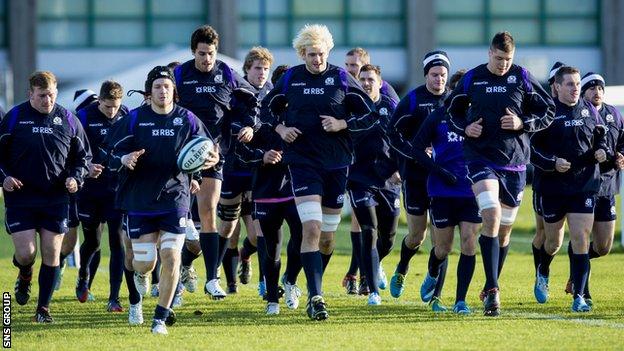 Head coach-in-waiting Vern Cotter believes he will inherit a Scotland side moving in the right direction.
"Jonno is doing a great job of running the whole show," Cotter told BBC Scotland.
"There is more depth, more competition for spots. We have a good young generation coming through and some good old soldiers still in there."
Cotter is in Scotland with his family, searching for a place to live and looking at schools.
And he took the opportunity to assist with Scotland training on Tuesday, although he insisted his contribution was "low key".
"It was just to say hello and watch them go about their business," Cotter explained, as Scotland prepare for Saturday's meeting with Japan.
"I've been actively following the players for quite a while and it was good to see them.
"This was the only week that was available to come over - and there's a game to watch."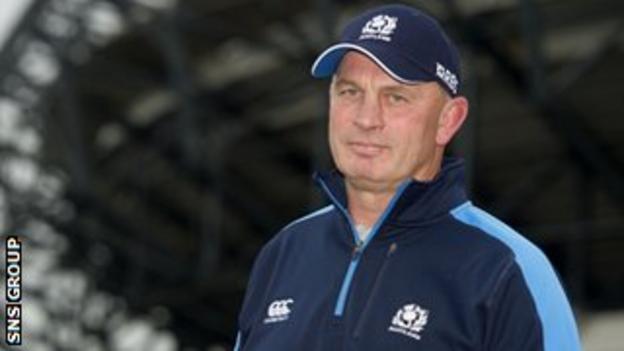 South Africa and Australia will provide sterner opposition at Murrayfield later this month.
"It's three good games coming up starting with Japan, who I think we have to be very careful of," added Cotter, who has been leading Clermont since 2006.
Johnson, who took Scotland to third place in this year's Six Nations as interim coach, will move to a director of rugby role when Cotter assumes control of team matters.
And the duo will continue to liaise, with a view to Cotter overseeing a successful campaign at the 2015 World Cup.
"We're just having open discussions on some players and some strategies and certain developments within the team, so we'll be in a stronger position for the World Cup," he said.
"I've got to finish my job with Clermont and these guys are working really well to move Scotland forward."
Centre Nick de Luca has no concerns over mixed messages and maintains the players are wholly focused on Johnson's instructions.
"We could worry or panic and come up with 100 different way things will change when Vern takes over," said the Edinburgh number 13.
"But we're making sure we are concentrating on what Scott wants us to do.
"I haven't had any communication with Vern other than to be introduced to him earlier. He has been out watching us train and I'm sure he will pull guys aside and have a word as the week goes on.
"But right now we have Scott and his team in charge and we will listen to what they tell us."