England Women: Maggie "The Machine" Alphonsi purring again
By Sara Orchard
BBC London Sport
Last updated on .From the section Rugby Union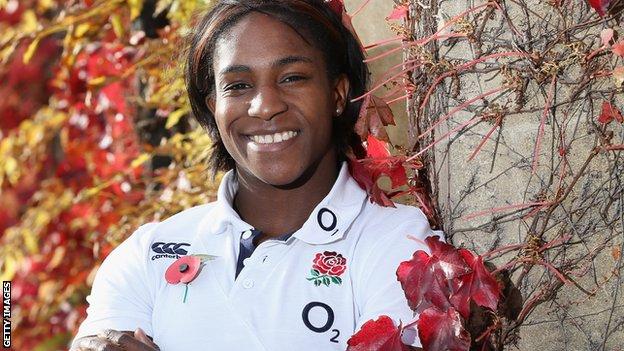 Maggie Alphonsi is a powerful woman. And not just because you'll still be feeling it a week later if the England flanker ever tackles you.
Olympic heptathlon champion Jessica Ennis and former England women's football manager Hope Powell were the others. Formula 1 driver Lewis Hamilton and Chicago Bulls basketball star Luol Deng also made the sporting list. Not bad company to keep.
It was the third year in a row Alphonsi was included. First named on the list in 2011, her fame stemmed from arguably the most impressive contribution ever to a Women's Rugby World Cup campaign by any player.
Her ferocious tackling and dominant ball-carrying at the 2010 tournament, held in England, helped her become the first female English rugby player to be a recognised name, and earned her the moniker "The Machine".
Men's 2003 World Cup winner Will Greenwood once described her as "an athlete of outstanding talent, incredible physical attributes and a player who would not lose out in the competitive stakes to someone like [England World Cup-winning flanker] Neil Back".
Despite England's third consecutive loss to New Zealand in a World Cup final, Alphonsi's rugby stock rose to the extent that she became the first female to win the Rugby Union Writers' Club's prestigious Pat Marshall Award in 2011, following in the footsteps of World Cup winners such as Martin Johnson, Jonny Wilkinson and Lawrence Dallaglio.
Then, in 2012, she was awarded an MBE for services to rugby.
The 29-year-old, preparing to make her comeback to international rugby on Saturday against France after 20 months on the sidelines, insists her ongoing status as the poster girl for the sport is not something she lets go to her head.
"My team-mates make me quite grounded and my coaches as well," she told BBC Sport. "You can't get big-headed in the sport that we're in; there are so many good players.
"The only reason I get any attention is because my team-mates put me in the right places to score a try or make a good run. I'm very fortunate to have had that attention but the reality is that you've got to be a good player and you've got to perform every time you play - that's my key focus."
Alphonsi remains humble, much of which can be attributed to her upbringing. She was born with a club foot (a condition where the foot has the appearance of turning inwards towards the ankle). After successful treatment, the early setback made the young Alphonsi more determined and gave her a sporting obsession.
At school she often spent break-times running on a treadmill rather than in the playground with her friends. She looks back now and - in her own words - thinks: "Oh God, I should have got a life."
But her commitment as a teenager, having taken up rugby as a 14-year-old, has paid rich dividends in a sporting career that has been on hold since March last year.
Alphonsi has endured a frustrating time watching others perform in her England number seven shirt while she recovered from a serious knee injury.
"It's quite challenging but you can't do anything about it," she said. "It's made me a lot stronger. Now I'm back I'm determined to work hard to get my shirt. It's been a long 20 months but it's great being around the girls again and makes you realise what you've missed."
Whilst time on the sidelines has given Alphonsi perspective, it has also given her focus.
Her club, Saracens Ladies, are already benefiting from the impact of her return, and they sit top of the Women's Premiership table midway through their season.
Her impressive club form has been rewarded with a place in England's back row at Twickenham as they play France - after the men's match against Argentina - in the first of two autumn Tests, with Canada to follow at the Twickenham Stoop next Wednesday, 13 November.
England have a score to settle on Saturday, after the French became the first team to beat the Red Roses at the home of English rugby in this year's Six Nations.
"It was hard," Alphonsi recalled. "I was commentating for TV that day. Prior to that we hadn't lost at Twickenham and to lose was quite challenging, just watching it.
"I felt for the girls on the pitch; they'd worked really hard in the build-up to that game and France played well. It's one of those things.
"Now we get to play France at Twickenham again, and it's an opportunity to change that result and make sure it's a win this time."
England's women are in need of a morale-boosting autumn as the next World Cup in August 2014 looms on the horizon.
Having rested a host of front-line players from last season's Six Nations to concentrate on the Sevens World Cup, the move backfired when they went out in the quarter-finals in Moscow, after relinquishing the Six Nations crown they had won for the past seven years.
A summer series whitewash in New Zealand and a defeat in the Nations Cup final by Canada followed, albeit with a more inexperienced team.
"It's been tough for the girls; we've had a lot going on," Alphonsi added. "It's been a learning experience, we've realised what we need to do. This year is a big year; this is officially the countdown to the World Cup."
Listen to England Women v France live on BBC 5 live sports extra on Saturday, 9 November from 16:50 GMT.