Redruth must avoid repeating 'comedy of errors'
Last updated on .From the section English Rugby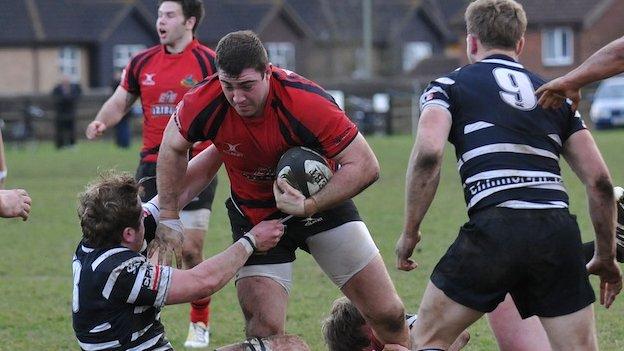 Redruth coach Ashley Morcom has urged his side have got to learn from their mistakes after they missed out on victory against Shelford last week.
The Reds drew 12-12 and Morcom said they had been their own worst enemies.
"It was a comedy of errors. At times it was like watching Cornwall or Devon Division rugby, not National League stuff," he told BBC Radio Devon.
"There were lots of handling errors and mistakes and we've been working hard on that this week to put it right."
He continued: "We've moved on and the plus side is we came away with two points."
Redruth are 11th in the table after last weekend's result and take on second-from-bottom London Irish Wild Geese on Saturday.
"I've read a few reports [about them], but from my point of view they're an unknown quantity," said Morcom.
"We don't know what to expect, but all the reports say they play a very open game and with the weather forecast for the weekend that might play into out hands.
"But we can't take them lightly, we have to go there and give them everything we've got."
The Wild Geese produced a major shock last weekend, climbing off the bottom of the league with a 45-22 defeat of Redruth's Cornish rivals Launceston.
"It was a bad day all round for Cornish rugby last weekend," added Morcom.
"Their mentality is that they've got nothing to lose. We'll go with out strongest side and hopefully we'll blow them out of the water with sheer forward power.
"They must be a half-decent side to put so many points on the Cornish All Blacks, but we've got to make sure we give them respect by giving them a good pasting."