Launceston coach Tom Rawlings calls for better 'reaction'
Last updated on .From the section English Rugby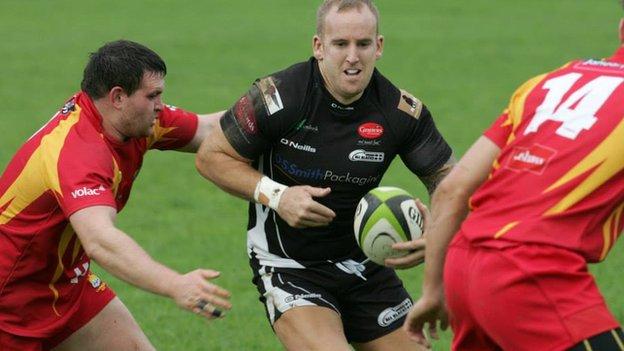 Launceston assistant coach Tom Rawlings says his players need to learn to pull together when things go against them.
The Cornish All Blacks suffered a shock 45-22 defeat by bottom-of-the-table London Irish Wild Geese last weekend.
"We don't seem to react very well to going to a score down," Rawlings told BBC Radio Cornwall.
"There was a 20 or 30-minute spell when the wheels fell off, and this weekend we've got to look to our senior players if it does start creeping in again."
Rawling said his team had crumbled far too easily after suffering the setback of conceding two early tries.
"We've got to pull tighter as a team because we can't afford to go points down like that," he said.
"Psychologically we were beaten already and it was a hard task in the second half to try to pull it back.
"To go all the way up to London and to pretty much lose the game in the first 20 minutes is very disappointing. The positives were that we used all of our bench and they had a massive impact and we pulled it back a bit - so it's not all doom and gloom."
Launceston travel to Southend in National League Two South on Saturday, with the Cornish All Blacks still awaiting their first away win of the season.
"We want to kick-start our away form this weekend," said Rawlings.
"We've ironed it out a bit this week, we've had a proper discussion and trained well. Southend are a tough team but it will be a good test of character to go up there and hopefully come away with a performance and a win.
"These are the games we should be relishing. Playing at home with the home support is amazing but we want to go away and get a win for our supporters and for ourselves."