England v Argentina: Jeremy Guscott's analysis

By Jeremy Guscott
Rugby union analyst, BBC Sport
Last updated on .From the section Rugby Union225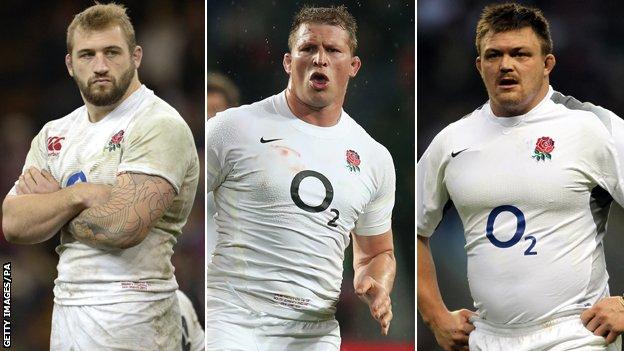 England face traditionally tricky opponents Argentina in the second of their three autumn Tests on Saturday.
Stuart Lancaster's men go into the match on the back of a battling win over Australia, which saw them recover from a seven-point half-time deficit to win 20-13.
But although England made it eights wins from their last nine Tests, the attack failed to fire against the out-of-form Wallabies and there is plenty of room for improvement against the Pumas.
Here England and Lions great Jeremy Guscott explains the thinking behind England's team selection and what they should have been focusing on this week.
Why pick an entirely new front row?
It's bit of a surprise for most that Dan Cole, who has been almost ever-present for the past few years, isn't starting at tight-head prop but David Wilson, who has been in Cole's shadow, is rewarded for his club form.
Cole usually stands out in matches either with his scrummaging or his turnovers, but he was pretty inconspicuous against Australia and it's a good shout to leave him out to have a good think about where his game is right now.
It looks to me like Cole is going through an average period at the moment, he made no real impression on the Lions tour and is not fizzing this season either - he needs to reboot.
If Wilson, like a lot of these England players, can reproduce his club form in the white shirt he'll be fine. However, he's got a silly habit of giving penalties away and if he wants to make the right impression on Saturday, he's got to get rid of that side of his game.
It's well known that Argentina are one of, if not the best, Test teams at scrum time, but the new scrum laws have brought them back to the rest and on their own ball they are as vulnerable as the next side.
I don't get why Alex Corbisiero is on the bench on his return from injury, unless it's a break in readiness for the All Blacks next week. I can't imagine he wants to be on the bench. He's the better player and if he's fit to be a replacement he's fit to start, so start your best players.
His absence from the starting XV means Joe Marler has a great chance to establish himself against renowned scrummaging opponents and he needs to have a stormer to get back up the pecking order ahead of Mako Vunipola, who is injured, and Corbisiero.
These guys in the front row have really got to pull their fingers out and be the catalyst for quick ball. They need to clear rucks and support runners, do that well and the team will fly.
Young flyers winged
It would have been great to have seen Christian Wade on the wing this week. He's been outstanding this season but has picked up an ill-timed injury. Hopefully it won't be long before we see him in an England shirt at Twickenham.
He's got to be given the chance because it wouldn't be fair to be playing so well and not get the recognition - he would have added the zip and fizz that's been missing from England's attack of late.
Chris Ashton got skinned by Israel Folau last weekend but it was the pass from Quade Cooper that exposed the England wing. His positioning and anticipation were all wrong and he totally misread the situation - he's got to be sharper than that because defence is what most are watching him for at the moment.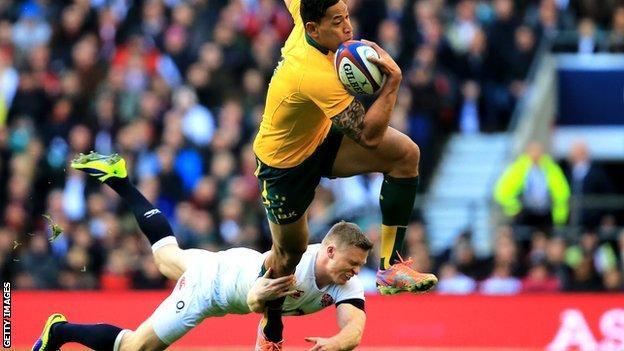 Ben Foden, who replaces the injured Marland Yarde on the left wing, is playing well at club level, albeit at full-back. He's been one of those unfortunate players who hasn't ever really had a bad game for his country but got injured and the replacement played well enough for head coach Stuart Lancaster to keep him.
Foden is an attacker by nature, he's quick and elusive, he's used to taking high balls and can read the game well, so I expect him to get involved and have his hands on the ball a lot.
What are the key areas?
We've not heard too much about what went wrong in the line-out against Australia, but I would be surprised if it was down to the calls from Courtney Lawes - it is more likely to be bad timing with the throwing and jumping, which should be easy enough to rectify, with Dylan Hartley starting at hooker.
Hartley brings slightly better execution in the line-out and he passes and off-loads more than Tom Youngs, but does have a big tendency to get isolated and get turned over, which is pretty inexcusable. Why go off on your own?
I'm pleased they've given the Lawes/Joe Launchbury pairing in the second row another run out, but they have to be more authoritative at the breakdown and really let the opposition know they're around. Lawes does it well but Launchbury could do with following his lead when it comes to the heavy duty collisions.
I thought captain Chris Robshaw had a reasonable game against Australia, he put in his usual full shift and earned his pay. He and his back row partners tried their best but didn't have enough support.
Ideally you would want to see number eight Billy Vunipola steaming onto the ball from a deep position with support, that's what he's good at and that's how England should be setting up to play, leading with their best ball carriers.
Argentina have a good back row, even without injured captain Juan Martin Fernandez Lobbe. Stand-in captain and number eight Juan Manuel Leguizamon is a quality player and had a great Rugby Championship, scoring three tries - he will be a handful for sure.
Twenty-year-old blind-side flanker Pablo Matera, who has joined Leicester, is a real workhorse in attack and defence. England need to nullify him quick sharp, which is easier said than done.
Argentina arrive in disarray
I saw a lot of the Pumas during the Rugby Championship and although they started off poorly, getting smashed by South Africa, they regrouped and came back stronger, until their thrashing in the final game at home to Australia.
There's a lot going on in the Puma camp at the moment, with a new coach in Daniel Hourcade, an injured captain in Fernandez Lobbe and other unavailable players. It doesn't look good from the outside and with all the distractions it would be remarkable if the Pumas put a performance together.
This team is not in the same place as the one that came over last autumn and dismantled Wales. This team is more in line with the one that went down big against the Irish XV last autumn.
What do you want from England?
For me this match has to be about England stepping up several levels and playing a smarter game, one that's focused on producing quick ball. England's defence was good against the Wallabies, they were very much up and into them, but they need the same focus in attack.
The attack is the missing link for most teams. They can all kick, chase and defend, but the teams that learn to score tries will start moving ahead of the rest, just like New Zealand and South Africa have done this year.
The England midfield didn't get any decent ball last Saturday so they get another chance, which they can't let pass them by. If I were in their shoes, particularly centres Billy Twelvetrees and Joel Tomkins, I would be demanding the ball on a silver platter. I'd have fly-half Owen Farrell get flat and really play on the gainline, using the width of the pitch.
The two centres have enough skill to either attack themselves or by feeding the likes of Mike Brown, Ashton and Foden, with decoys running interference on the defence to create confusion.
They also need to make more of the elusive Brown's counter-attacking skills. More support will lead to more opportunities, but they've got to get back and help him.
In addition, please attack from scrums. Get the hooker to hook the ball, because it's some of the best ball you can attack from - please sort it out.
England need to play smart rugby but if the forwards can't produce quick ball then the team are going to struggle. It was sad to see such slow reactions from a lot of the players when it came to recognising slow ball and what to do against Australia.
When that happens you need your forwards to hit the ball hard and from deep. England didn't do that and there was only one line break, which was Billy Vunipola from a standing start - that's a really poor effort. I can't over-emphasise how necessary quick ball is for the team to function, without it you're in a dogfight and no-one enjoys that, although Argentina might.
The passing one-out off slow ball against the Wallabies was pitiful and so easy to defend, it was brainless old school rugby and England need to move the ball at least one more pass and do so quickly and accurately, with speed of both foot and mind.
I would like to see some invention from the England backs from scrums and some smoke and mirror moves to produce line-breaks - let's see some magic.
So who's going to win?
Stuart Lancaster's team have got to get their heads in gear and believe and trust they have the skills to do a great job.
England should aim to play the game at a tempo they know the Pumas will struggle to live with, with scrum-half Lee Dickson demanding quick ball and the forwards producing it.
I feel England will win by about 20 points if they don't get bogged down and lose the nerve to attack - three tries at least has to be the target.