Mike Blair column: Positives for Scotland to build on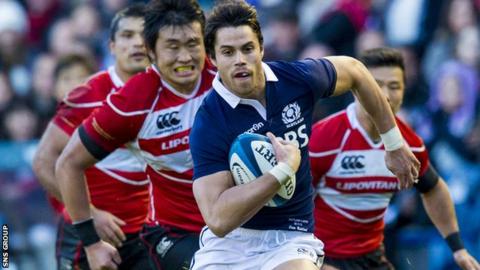 Scotland's 42-17 win over Japan showed the benefit of playing the weakest of autumn international opposition on the first weekend.
In most of the previous campaigns Scotland have played two of the southern hemisphere big guns followed by a lower ranking side. This way round they have bought themselves some game time to iron out their set-piece, attacking and defensive structures, and rekindle some combinations.
Scotland will be pretty happy with how things played out.
There will have been a few moments of anxiety after Japan's second try brought them within a point but they drew away nicely in the last 20-25 minutes with some thrilling attacking play. This will give confidence going into Sunday's match versus an extremely physical South Africa.
I feel that Scotland will have to make a few amendments. Against Japan, one of the physically smaller nations, the power game didn't appear to bear fruit unless there was deception and a change of running lines involved.
Too often forwards were sent up against a strong defensive line - too flat to give the extra tip pass or too isolated to create indecision in a defensive line.
If you have two runners within three or four metres of each other, with the option of the scrum-half to pass to either, it means that the defender in front of you must make a decision as to who he's going to hit in the tackle.
Sending up single runners, even with the explosive power of Dave Denton, is not a tactic that should be relied upon. It's perhaps telling that of the 154 passes made by Scotland, only 16 were made by forwards.
When there was movement, deception and ambition in the contact Scotland started to look threatening.
There was one delayed ball from Greig Laidlaw to Alastair Dickinson around the fringes and the angles of running and off-loading leading to a wonderful Dickinson try, showing how a defence can be manipulated.
I also believe that Matt Scott is running the 10/12 cut (or scissors play) as well as anyone has since the days of John Leslie in 1999. He runs at pace, accelerates through the receipt of the ball and has the evasive skills to challenge the second line of defence.
Scotland need to build on this as a way of getting in-behind a side.
One way of doing this is Scott looking for the off-load in the tackle. I have clear visions of New Zealand skipper Richie McCaw always on the inside shoulder of inside centre Luke McAlister, and Marty Leslie or Budge Poutney sniffing for the ball from John Leslie.
There was a trust that their open-side flanker would be there and that extra pass creates real problems for a defence. Once in behind a team it's amazing how much easier the game becomes.
Scotland's defence was solid on the whole, Tim Swinson catching the eye a couple of times with some big hits and Euan Murray putting himself about as top tackler with 15.
Although the shape was comfortable for large parts of the game there will be a few moments giving defence coach Matt Taylor nightmares.
Ruaridh Jackson flying out of the line to give Japan captain Toshiaki Hirose the initial break for the first score, and the ease at which full-back Ayumu Goromaru dissected both Nick de Luca and Tommy Seymour on the way to Kenki Fukuoka's second try, spring to mind.
One point of note for the defensive structure is the work of the back three "pendulum" (how they work together across the pitch depending on where the opposition are attacking).
Taylor will drill into the players the importance of consistent decision-making and, although just a small point, the work of Sean Lamont can be questioned for one try and applauded for the other.
For the first try you will see Lamont in behind the ruck at the first breakdown after the initial line-break. Laidlaw and Sean Maitland are both involved in the tackle and as a consequence Lamont should continue his cover across and essentially do the job of the 9/15, taking the last man or covering the kick. Unfortunately, he decides to hold back a touch, keeping his eye on his own wing and therefore being too late to do the "sweeping" job.
For the second try it's a very similar situation and Lamont makes a fantastic cover tackle, coming across from his opposite wing. Consistency of decision-making is key and is the basis of a defensive structure.
So, job done, lots of positives, and some things to work on leading up to the small matter of second-ranked South Africa.