Plymouth Albion: James Shanahan hails disciplinary breakthrough
Last updated on .From the section English Rugby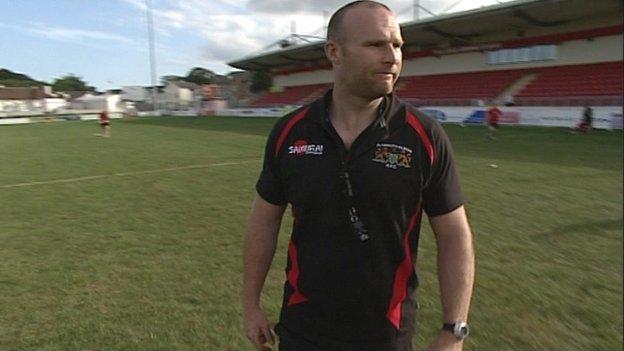 Plymouth Albion coach James Shanahan said his side are starting to learn their lessons on the disciplinary front after a torrid start to the campaign.
Albion beat bottom-of-the-table Ealing 20-5 on Friday and came through the game without any yellow cards for the first time this season.
"It's about not putting ourselves under pressure. It's much easier to defend if you do that," he told BBC Radio Devon.
"We've taken a step forward. We know we have to keep 15 players on the field."
Albion also had lock Brett Beukeboom sent off against London Scottish earlier in the season, earning the Canada lock a five-game suspension.
"They don't intentionally give cards away and it's a big bonus we didn't do that this week," added Shanahan.
"Ealing worked really hard and put us under pressure and turned it into a real battle up front, but we defended very well and didn't allow them to come back at us.
"We kept discipline with not giving away too many penalties and I'm pretty happy with how we managed the game.
"In the end it's an away win in the Championship which is hard to come by."
Ealing have yet to register a league point this season, and Shanahan admitted he was disappointed not to have picked up a bonus point [for scoring four tries] against a side which has conceded 284 points in seven games.
"There was torrential rain and the pitch was soggy and I thought it was going to be a real arm-wrestle," he said.
"Luckily we started really well and got points on the board and controlled the game from there.
"I would have liked to have got a bonus point but we got four points and it was a comfortable victory."