Declan Danaher: London Irish stalwart considers retirement
Last updated on .From the section Rugby Union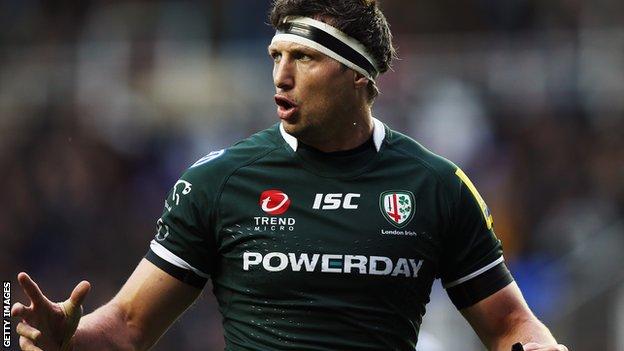 London Irish stalwart Declan Danaher says he is ready to contemplate retirement and no longer dreads the day when his 14-year career ends.
The 33-year-old is set to play his 270th game for the Exiles this weekend.
And he has hinted this will be his last season before he takes up a full-time role coaching the Exiles academy.
"I'm not dreading it. I think in my mid-20s, or heading towards my 30s, I was in denial but I've come to terms with it now," he told BBC Berkshire.
Danaher's career at the club has spanned three decades and he is proud to have played for the Exiles for so long.
"I'm not one for stats and records, but it's nice to know I'm on 270 and only a few behind Justin Bishop on 280," he said.
"It would be nice to beat that [record] or at least match it. We'll see what happens."
The back-row forward will not make a decision on his future until the start of next year, but admitted he is ready for a new challenge in his rugby career.
"I'm ready for the change in a year's time. Hopefully that'll be coaching and coaching here," he said.
"I'm loving the stuff I'm doing with the academy and it is a completely different challenge for me. I love working with the kids and it's great to do something different.
"I will wait and see what my body is telling me at Christmas, but like anything you want to have everything in place before you announce it. It's in the back of mind. I'm nearly 34 so after Christmas I'll make a decision."