England v New Zealand: Jeremy Guscott's analysis

By Jeremy Guscott
Rugby union analyst, BBC Sport
Last updated on .From the section Rugby Union539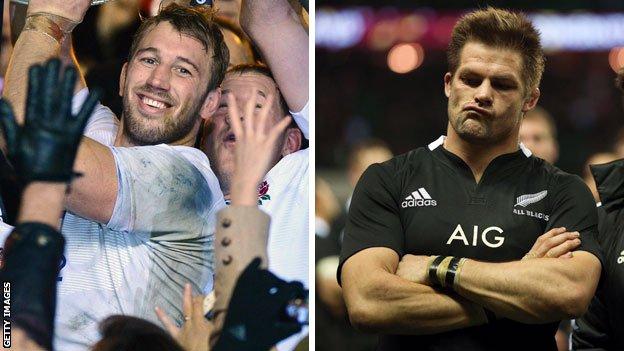 A year ago England stunned the rugby world - and maybe themselves - as they blew away New Zealand at Twickenham.
Since that defeat - the All Blacks' only loss in 33 Tests - the world champions have won all 12 games.
England also head into their final autumn Test on the back of some good results - the win over New Zealand marked the start of a run of nine victories in 10 games - although recent performances have not hit the heights many had hoped for.
Here, the former England and Lions centre Jeremy Guscott explains what it takes to beat the All Blacks - something he managed twice in his career, although never with the red rose on his chest - and what he expects to happen on Saturday.
Is this the best New Zealand team of all time?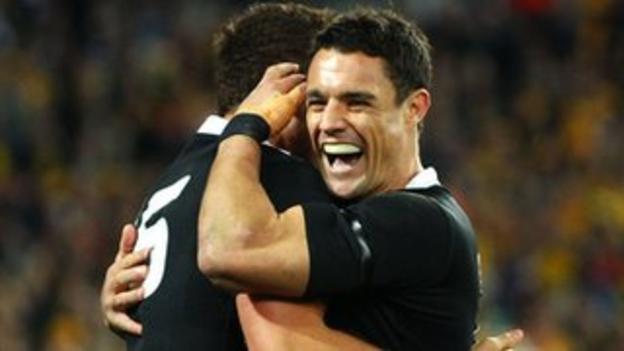 It's nigh on impossible to say whether the current New Zealand team is the best there's ever been, because the calibre of opposition is different.
But to have lost only one of their last 33 matches and be unbeaten to date through 2013 is an incredible achievement.
I really enjoy watching the All Blacks because they combine skill, fitness and technical abilities with intelligence and a real understanding of how to play the game in a way that suits their strengths.
They do have a weakness, though, one that is common to all teams.
If you produce quick ball against them they find it just as hard as the rest to defend against it.
They can also struggle with real power. South Africa used driving mauls from line-outs in the All Blacks' 22 to score in the Rugby Championship, although the world champions still managed to win both matches.
So how do you beat them?
By having every part of your individual and team game at its most accurate - they score a lot of tries from turnovers so your error count has to be incredibly low.
You also have to be thinking about scoring three tries to be in with any kind of a chance.
Having a big offensive defence is another requirement. Last year Manu Tuilagi scored when his good line speed in defence enabled him to pick off a pass from Kieran Read and England have to do the same on Saturday, because if you hang off New Zealand they will pick you off and score at will.
Then there's kicking. Any kind of kicks from England have to be contested or close to contested and that means the home side must produce the best kick-chase ever, because New Zealand's counter-attack is the most lethal in the world.
The battle of the captains
Richie McCaw is the king, and at nearly 33 he is still proving he's a very good player. The flanker is an expert in timing the tackle and knows when to go for the jackal tackle (to try to steal the ball at a ruck) and when it's better to stay out of the breakdown.
The New Zealand captain makes good decisions and he gets along very well with most of the referees, which helps his cause.
He's also incredibly resilient - he has to be to have lasted as long as he has in the open-side position. He's a consistent, elite performer and even his worst performances are good, such is his ability.
I think the difference between really great players and merely good players is their ability to only have good games, never really poor ones.
McCaw leads by example, which is the only way when it comes to rugby. Last week against France he made 19 tackles and didn't miss one.
His England counterpart, Chris Robshaw, is still making his way in the international arena, but he's got respect because of his work-rate. He thoroughly deserves his spot in the team and is also proving to be a good leader by example.
One-on-one, open-side flanker v open-side flanker, McCaw wins nine times out of 10 because he has a better skill set and he plays like a true number seven while Robshaw is still a mix between a six (blind-side flanker) and a seven - but he's still the best England have.
I wouldn't say Robshaw had the better of McCaw last season but I would say the English eight took on the New Zealand eight collectively that day and the England forwards outplayed the world champions' pack.
So many times that day I watched McCaw, Liam Messam or Kieran Read get over the ball at a ruck only to be smashed away by the first and second Englishmen arriving on the scene. It was no-nonsense rugby, it was devastatingly efficient and it was fantastic to watch.
The duel at fly-half
It's unfair in so many ways to match these two up because All Blacks fly-half Dan Carter, like McCaw, is the king of his position, but facts are facts.
And it's a fact that England's Owen Farrell currently has a 100% winning record against Carter. The 22-year-old fly-half has played against Carter once and has one victory to his name - it's a stat to be proud of!
However, Carter - set to win his 100th cap on Saturday - is pretty much the complete fly-half, there isn't any part of the skill set required to be a number 10 that he hasn't got.
I would hazard a guess that since Carter, who is the all-time leading points scorer in Test history, started playing the game he would have made the World XV most years - that's how good he is.
Farrell has a great temperament for such a young man, he's generally able to keep very calm when kicking penalties, which is a brilliant characteristic to have at this level.
Personally I would like him to stand much flatter when England attack. It would stop him running across the pitch which means he would both give his outside backs the ball much quicker and fix more inside defenders. He has the capacity to do this and I'm struggling to know why he doesn't or won't do it - his coaches must know that has to happen.
It is something Carter does very well. He is the best all-round number 10 playing international rugby since Australia's Stephen Larkham and New Zealand predecessor Andrew Mehrtens - the man is incredibly gifted.
England World Cup-winner Jonny Wilkinson could kick, defend and pass, but he didn't have the best running game, while Carter has it all. He is a great advert for both rugby and humanity in general.
Can lightning strike twice?
England have to find the game they played last season, if they can do that they will win again. However, we've seen two very different performances from England so far this autumn and they have to marry the best from those two and raise their game several levels to give themselves a chance.
England haven't shown great creativity in the backs during Stuart Lancaster's tenure as head coach, if that remains the case on Saturday then however few opportunities they create they must score if they are to have a chance of winning. Last season it was three tries from three backs, it would be amazing to see that again.
I played against New Zealand a few times for England but never had the honour of beating them in the England jersey; that only happened with the Lions and a World XV, both times in New Zealand.
No other team in the world play like the All Blacks, bar maybe France on a very good day. The world champions have this ability to raise the tempo in a game like no other team.
And speaking from experience when the gear change comes, as it will on occasions on Saturday, most probably from a turnover, it's very tough to withstand.
Don't make any errors when you are in possession of the ball, and force mistakes from New Zealand errors when they have it.
Personally I enjoyed the Haka. Some players choose to feed their emotions watching the challenge but I chose not to. I wasn't that kind of person and I chose to respect it and enjoy it.
I didn't use to look at the likes of Jonah Lomu, Frank Bunce or Inga Tuigamala during the Haka, I just used to look around the group and beyond it because I didn't want them to get a fix on me to help amp them up further.
So who is going to win?
New Zealand should win - they have this great ability to make very good decisions under the pressure and intensity of international rugby, take their opportunities and make very few errors.
It's also a big plus for the All Blacks that they have 13 of the same starting line-up from last season's game - they're here to put right what went wrong last time.
In contrast, England field only seven of the starting XV which shows where each team is, New Zealand are consistent in selection, while England are still finding their first team.
If it's not raining I believe New Zealand will win by about 20 points.
The BBC Sport app now has live streaming of BBC Radio 5 live as well as all the latest match reports, news and analysis. From 14:30 GMT on Saturday 5 live has commentary of England v New Zealand.