New Zealand are sport's best team - England coach Stuart Lancaster
Last updated on .From the section Rugby Union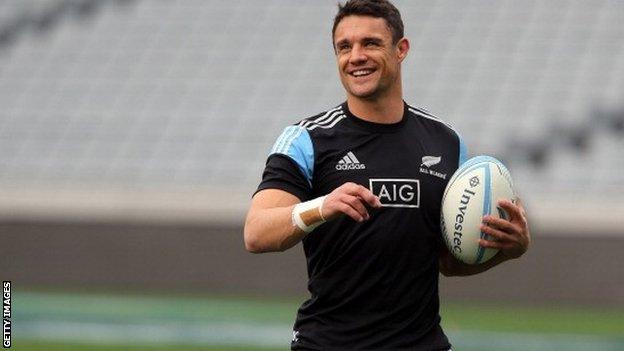 England boss Stuart Lancaster sees world champions New Zealand as the most dominant team in international sport.
Lancaster's men host the All Blacks at Twickenham and are the only side to have beaten them in the last 33 Tests.
"New Zealand have become probably the most successful team in world sport," said Lancaster of Saturday's opponents.
"I would have to say this is the best New Zealand team because of their record and what they have achieved on the back of winning a World Cup."
England surprised New Zealand last December by securing an impressive 38-21 victory, ending the visitors' 20-match unbeaten run.
But the All Blacks have since embarked on another winning streak, finishing the Rugby Championship unbeaten over the summer to claim a second successive title.
"When teams win a World Cup they traditionally take a dip, maybe rest on their laurels, but they have managed to retain the hunger and desire to keep winning," said head coach Lancaster.
"The Rugby Championship is a very tough tournament to win and they have done that twice now.
"In world sport, could you tell me a team that has a record like that internationally? I don't think any of the football teams have got it, Spain for example. In cricket no-one has it. So, yes, this is the best team."
However, Lancaster said England were not trying to emulate the All Blacks but were instead attempting to forge their own identity.
"We're trying to capture our own heritage. There's a difference, we're not trying to copy them," he said.
"What we are trying to do is tap into what the English rugby shirt means and what the pride in the shirt means; what it meant to the people who used to play.
"If you can tap into that and find what that means, that's a pretty powerful source of motivation, a deeper sense of motivation.
"That's what the All Blacks did in their transitional period from 2004 to 2007. They really understood that and got the best out of that history."