Sir Clive Woodward relives England's World Cup final victory
Last updated on .From the section Rugby Union238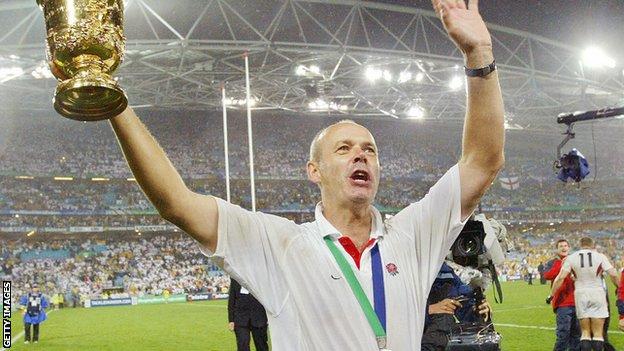 Friday, 22 November, marks the 10-year anniversary of one of English sport's golden moments, England's Rugby World Cup victory over Australia.
Here the former England coach, 57, recalls in his own words how he felt on that momentous day, from a 6am walk, through the drama of the match itself, to the moment the winners' medals were handed out.
Note - this piece contains a single use of a swear word.
The longest day
It wasn't a normal World Cup final. England against Australia, in Australia, was just colossal.
With kick-off at 8pm local time, it was the longest day. I couldn't sleep and by 6am I was walking on Manly beach trying to mentally rehearse the scenarios that might happen.
We met for the first time at 11am and did a few line-outs on the pavement next to the beach, which caused a bit of a kerfuffle with all the fans.
The players then went off to have lunch and rest, but Manly is a special place for me, having lived there for five years back in the 1980s, so I decided to meet some friends.
The pub was packed and although there was a round of applause when I came in, you could see everyone was just astonished, thinking "what is he doing here? Shouldn't he be revving the team up?".
But it was still seven hours to kick-off and it was more a case of keeping everyone calm. I had a ham sandwich and a cup of tea in the corner and that was a special hour for me.
It was a longish bus journey from Manly out to the venue in Sydney's western suburbs, probably about an hour and a quarter, but the mood on the bus was really good.
Then the rain came down about half an hour before our arrival. I was not happy. I didn't show it of course, but with a dry pitch I think we would have played a lot better than we did. We were an all-singing, all-dancing team and we wanted perfect conditions.
Build-up to kick-off
It was exactly the same routine in the dressing room as the rest of the tournament but, in terms of atmosphere, it was a lot quieter. It wasn't the time for big Churchillian speeches, [captain] Martin Johnson wasn't big on that and I certainly wasn't.
Martin would usually lead the team up the tunnel, then stop, turn to the players behind him and have one last, short emotional comment to say just before they ran out.
This time he stopped, turned round and found that he couldn't say anything. He just shook his head because there was nothing more to say. This was it. He ended up looking at them as if to say "just get on with it!"
If I have one memory of that day it was looking round the stadium and seeing so many white shirts. This was the other side of the world, but even in our coaching boxes, which are sound-proofed so you are cut off from the atmosphere, the anthems were special.
It was a very proud moment for all of us but we had told the guys not to lose it in the anthems, just to keep it even.
Six minutes: Tuqiri touches down for Australia
We had been playing well but Australia scored first and it was through a mistake. There was a lot of talk afterwards about Jason Robinson being out-jumped [by Tuqiri], but the mistake was Trevor Woodman's.

He gave away a stupid penalty with a swinging arm. I was annoyed at Trevor. We didn't need to do cheap shots, we were too good a side to be doing that, and that gave them the field position which the try came from.
It was an amazing kick by Stephen Larkham and Lote Tuqiri had the run on Jason. It wouldn't have mattered who was there for us.
Although I didn't want them to score, I thought conceding that try might be a good thing for us. There was part of me thinking "we are a good team, we'll handle this" and, sure enough, it really got us going.
20 minutes: Wilkinson puts England 6-5 up
To see Jonny Wilkinson, a guy I had capped as an 18-year-old back in 1998, putting the ball straight through the posts in a World Cup final was just amazing
He was the best player in the world at this stage, a genuine superstar. Most of the players could go for a coffee on their own, but he needed a couple of security guards just to look after him.
As amazing as it was to have Jonny in your armoury, we did not rely on that. Everything we did was geared around scoring more tries than Australia.
At this point, 6-5 up, I asked them to keep calm, keep the pace up and have the confidence to run from deep. I was pretty pleased with how things were going.
25 minutes: Ben Kay spills a try-scoring pass
You try to stay calm but I felt sorry for Ben because I think we deserved a try. He is one of the best second rows England have ever had but he has to relive that again and again.
Just as I was recovering from that I looked up to see Jonny Wilkinson pole-axed with physio Barney Kenny and doctor Simon Kemp around him.
You don't normally get two medical guys on and, with just 25 minutes gone, only a point ahead and Jonny holding his left shoulder, I saw my whole life go before my eyes.

Players can't come back on if they come off for anything other than blood so we had a routine for this situation. We were going to put him out on the wing, away from the firing line, for three or four minutes to protect him and assess the damage.
The medical guys were worried when they first got to him, but it was just a bad stinger and he got up, jogged over and got on with it.
Ben was fine by the way. When then Australian Prime Minister John Howard gave him his medal in the post-match ceremony, he pretended to drop it.
38 minutes: Robinson try puts England 14-5 up
I was thinking about my half-time team talk and had already sent some notes down when suddenly Lawrence Dallaglio was on the burst, produced a superb inside pass and the ball was into Jason Robinson's hands.

I was watching on the monitor in the coaching box and to see his face was brilliant. For him to deliver on the biggest stage from his league background was massive.
It was an amazing moment, but from the restart the wingers are in charge and so, behind the scenes as Jonny is taking the conversion, Jason is already talking to the forwards and sorting out everyone's positions.
Half-time: Australia 5-14 England
Half-time was a military operation for us. I would send a man down to the changing room about five minutes before the break to put up two or three key points on the whiteboard.
When the players came in, there was always two minutes of complete silence, while the players took on food and drink, put on clean kit and read key points on the board.
Sometimes we put up quite definite things but in the World Cup final, there was nothing really to change. Johnno [captain Martin Johnson] spoke up and agreed we just needed to keep our discipline.
It was very calm, very collected. The only time we had to change things about was when we trailed Wales 10-3 in the quarter-final and we had to scream, shout and throw things about to terrify everyone into action.
61 minutes: Flatley penalty makes it 11-14
You could tell by the body language of referee Andre Watson that he was getting really irate with us. Phil Vickery has made a tackle, got to his feet and played the ball and Watson has acted like someone has thrown a punch or done something criminal.
Overall I think Watson was fair, but he got a little confused at the scrum. We had seen in the first half was that our scrum was better. We were dominant.

We have never played for a penalty at a scrum. And then in the biggest game of our lives we suddenly had a few scrum penalties going against us and I just know we don't do that.
It was not just me who didn't understand it, it was people who have played the game in that position.
Watson was a surprise choice to host the final for us. We presumed Paddy O'Brien, who reffed us against France in the semi-final, would get the final.
But looking back this is where I am proud of myself, Andy Robinson and my team because we could have panicked, changed the team and brought different people on. But I think that would have just raised the pressure.
78th minute: Flatley penalty ties scores at 14-14
I was looking at the clock and I hated it when it stopped for a stoppage. It seemed to be on 76 for ages!
When we were deep in their half with four minutes to go, I was confident we were going to hold out. But with us in control, Ben Kay knocked the ball on and that was a massive moment.
Stephen Larkham booted downfield, we were right in our 22 with two-and-a-half minutes to go and that was the first time I thought that we could lose it. One moment of genius or one mistake was all it might take. I'm not sure what I am thinking but it is not good.
Then Andre Watson awards a scrum penalty, blowing his whistle so hard and with such intent. All I could think was 'how can you do that?'
Extra-time: Wilkinson makes it 17-14
I didn't know whether to get in the lift or run down the stairs from the coaching box and suddenly I found I was sprinting down to the pitch, racing Australia coach Eddie Jones who was doing the same thing!
I went straight over to bring on Jason Leonard as a replacement, telling him the only way that we could lose this game was through penalties.
He went across to Andre Watson, put his arm around him and told him there would be no more penalties because he was the most experienced scrummager in world rugby. And he was right.
The other person I spoke to was Jonny Wilkinson. He took one look at what was going on in the huddle and decided he would be better spending his time practising his penalties.
I told him that with Mike Catt on in place of Mike Tindall we had to play to the corners and for the first time in his life he swore at me. He looked at me and said 'no shit!'. He apologised afterwards and we laugh about it now.
Spookily it turned out that the first penalty we got in extra-time [after 82 minutes] was within a few feet of where Jonny had been practising at the break.
I think if we had gone behind by three points in injury-time I would have still been confident because this side would have gone off into another stratosphere if it had found itself losing.
97 minutes: Flatley again levels - 17-17
At least this time, unlike at the end of 80 minutes, we still had a couple of minutes to try and change things.
It was part of our routine that when the opposition was kicking at goal we were planning for the restart. The focus was on kicking off quickly first and then getting to some field position where we would have a chance to win the game.
I was down on the touchline by now, because sudden death was suddenly looking a real possibility.
100 minutes: Wilkinson lands drop-goal - 20-17
The line-out was one of the gutsiest throws I have ever seen. The easy throw was to Martin Johnson at the front, but we went to the back where Lewis Moody was unmarked.
I heard Ben Kay make the call and you can almost see [hooker] Steve Thompson's body language saying "thanks for that mate". But the call was perfect.
"Zig Zag" was the call off the line-out, meaning we should alternate going left and right, as if we had to score a try under the posts.

The Australian players are spread so wide looking to charge Jonny Wilkinson down that there is space everywhere. That allowed Matt Dawson to make the break that earned an extra 20 yards, got us into the perfect position and probably won the World Cup for us.
Even in the penultimate phase Neil Back realises that he is not the man to pass to Jonny and calls up Martin Johnson for another final rumble. And finally everyone is in position, it goes back to Jonny on his right foot, his weaker foot, and over it goes.
It was what followed next though that I remember better than any other moment in the game. Australia took the kick-off so quickly that we are not ready and Trevor Woodman, who should have been next to Martin, was isolated on his own.
They kicked straight to him which was the right option, but he soared like a salmon to claim it and then it is just a matter of getting the ball off the field.
The final whistle
I was trying to walk around all the players and was conscious even when it was happening that I should try to take it all in. It was something that only happens once in a lifetime. But I also couldn't help thinking how close it had been, despite us being the better team.

I couldn't believe how fast they were handing out the medals. Australia Prime Minister John Howard was just throwing these things around people's necks. I wanted us to slow things down and enjoy it.
I know Howard was disappointed but I didn't think he had to look quite so miserable. He couldn't wait to get away which was a little sad really. That was his chance to congratulate the England team and he singularly failed to do so.
They were a special group. There is this real bond you have achieved, something that no-one can take away from you. Not many people get the chance to do what we did, never mind deliver on it.
This is an edited version of Sir Clive Woodward's view of England's World Cup final victory. Listen to his full account in a BBC 5 live Rugby special, Woodward's World Cup, on Thursday, 21 November, 1930-2100 GMT