Scotland: John Barclay plays each game like it is his last

By Phil Goodlad
BBC Scotland
Last updated on .From the section Rugby Union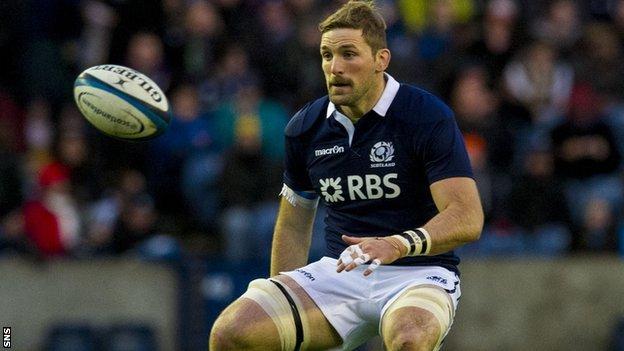 John Barclay says the "shock" of being out of the Scotland fold has made him cherish every appearance for his country.
The flanker will make his first start for Scotland in exactly a year on Sunday against South Africa at Murrayfield.
"Kelly [Brown] made a point last week about treating every game as if it's your last," Barclay told BBC Scotland.
"It's definitely an approach I take into games now."
Barclay's last international start was also against South Africa at Murrayfield, in a 21-10 defeat in November 2012.
He came on as a replacement in last weekend's 42-17 win over Japan.
The 27-year-old missed the start of the Six Nations due a torn hamstring and could not get back into interim head coach Scott Johnson's team.
Shoulder surgery ensured he also missed the summer tour of South Africa.
"I've had a break from international rugby," said Barclay, who now plays for Scarlets after moving to the Welsh side from Glasgow Warriors in the summer.
"Last week, coming back, made me realise you're just as fast in the team as you are back out of it.
"I wouldn't say I ever took it for granted playing for my country, but I think you definitely do get comfortable in the environment.
"If you're playing well you think you're going to get picked. I had a bit of a shock, not a shock, but just being out the team, it's not nice.
"You see the boys playing and you miss it. I think I did have a drop in form and I don't think there was any particular reason I can put my finger on.
"I went back to Glasgow Warriors after the Six Nations frustrated and I think I ended up playing some of my best rugby at the end of last season."
Meanwhile, Johnson insists the performance against the Springboks is as important as the result.
"The fact is, if I won ugly and didn't perform well, it would drive me crazy in the coaches box," he said.
"I don't feel that can occur, a win tomorrow, without performing well. So we've got to perform well to win."