Scotland's Gavin Hastings reveals 1991 World Cup regret

By Phil Goodlad
BBC Scotland
Last updated on .From the section Rugby Union
Gavin Hastings believes Scotland could have won the 1991 World Cup had he not missed a crucial penalty in their semi-final against England.
Hastings, who is to be inducted into IRB Hall of Fame, said his close-range miss in the 9-6 defeat was his greatest regret from his playing days.
"If I could change one thing in my career, it would be putting that kick over," he told BBC Scotland.
Asked whether Scotland could have won the World Cup, he replied "probably".
Hastings, who earned 61 caps and toured twice with the British & Irish Lions - captaining the side to New Zealand in 1993, is one of 11 people to be inducted into the IRB Hall of Fame at the eighth ceremony in the award's history.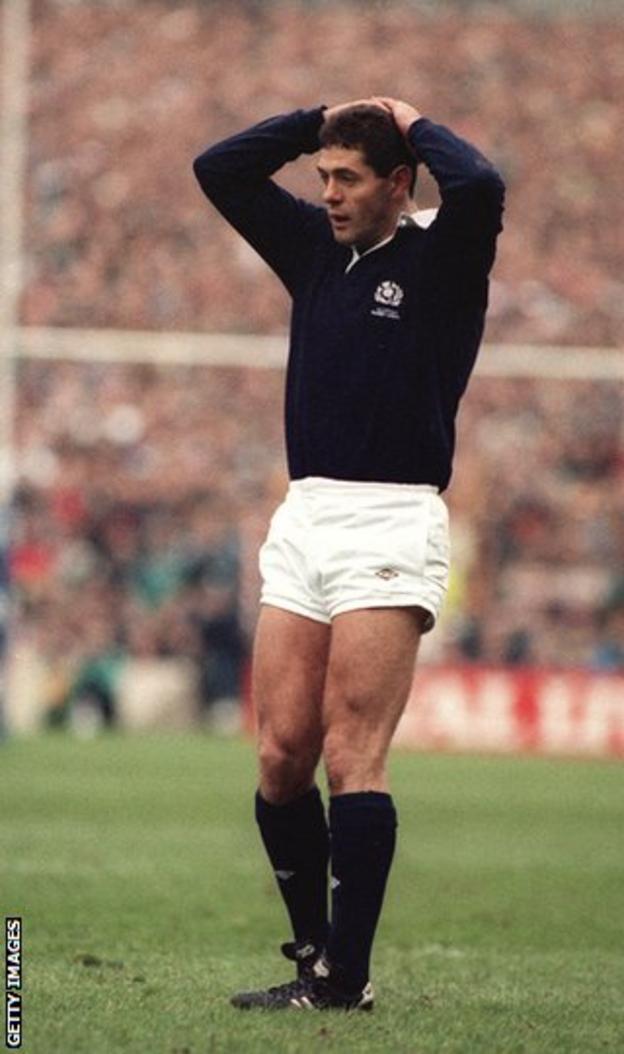 The Scot starred for his country when they beat England to secure the Grand Slam in 1990 - but the former full-back said he learned more about himself in missing the penalty a year later than he did in the many triumphs of his career.
"We were trying to win all of our games and we didn't win the semi-final," he said.
"We went into our third fourth-place match to try to become the first Scotland side to beat the All Blacks. We weren't far away from doing it.
"Whether we'd have gone on to win the game against England had my kick been successful, well, we'll never know.
"But I wish it had gone between the posts. There was a reason I missed the kick - and it was because I was tackled heavily by Micky Skinner.
"The physio came onto the field and was using the cold sponge on me. Clearly - with hindsight - I should never have taken the kick, Craig Chalmers should have.
"I'd kicked two out of two prior to that. I was down and, all of a sudden, I got up and probably wasn't ready to take the kick.
"Looking back, I should never have taken it. But you learn more about yourself in adversity than having success, and I learned a lot about myself.
"The fact I went on to captain the Lions and lead Scotland and, hopefully, continued to play in a positive fashion, is testament to what drove me on as a rugby player.
"If anyone was going to miss the kick, I'm glad it was me. I knew I was capable of enduring that miss, but it annoys me that people might remember me for that. They're pretty small-minded people if that's their attitude towards me."
On a brighter note from his playing days, Hastings says the belief among the players who featured in the 1990 Grand Slam-winning side proved decisive.
"I don't think anyone in our squad felt we weren't going to win," he said. "We hadn't necessarily played all that well in the three previous games.
"But then we had this huge opportunity against England and games against them had always been close affairs.
"Because of the Murrayfield factor, I always felt we were going to be good enough. It was an utter belief and conviction that we were going to win the game."
Hastings said his tearful interview following the 15-14 Calcutta Cup defeat at Murrayfield in 1994 triggered a wave of correspondence from rugby fans.
"We deserved to win that game and it was kind of snatched away from us at the end," he recalls.
"I received hundreds of letters following my post-match interview and many from south of the border saying, 'We now realise what it means to play for your country'.
"Trying to convey what it's like to represent your country in that 30-second piece in front of the TV camera straight after the game, the emotion was there for all to see.
"I'm not embarrassed by it, it's just one of those things."