Wales v Tonga: Edwards expects ref to protect Wales
Last updated on .From the section Welsh Rugby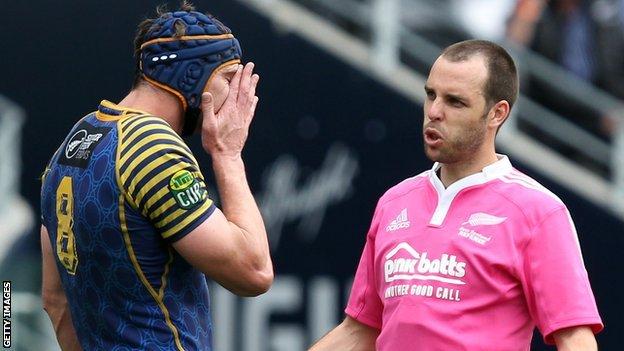 Wales defence coach Shaun Edwards expects referee Mike Fraser to protect Wales from any unsavoury Tongan indiscipline on Friday in Cardiff.
Against France at the weekend, Tonga prop Sona Taumalolo and French lock Yoann Maestri were sent off for fighting.
Sea Eagles scrum-half Taniela Moa was also sin-binned for elbowing hooker Dimitri Szarzewski.
"It is... vital the referee protects our players," said Edwards.
"That's why I am so pleased that he [Fraser] is coming over.
"I've seen him in the ITM Cup and he is a really good referee.
"I am sure he won't put up with any nonsense, because it is something that has occurred more than once.
"They are very vigorous, as you would expect. They are proud people, but as long as it's within the laws of the game."
Edwards linked event in Fiji's defeat by Italy to underline his belief in the reputation of Islander teams.
Welsh referee Leighton Hodges sent a record five Fijians to the sin-bin and at one point they were reduced to 11 players against the Azzurri.
The physical nature of the game also led to Italian centre Luca Morisi having his spleen removed after the game following a legitimate tackle early in the match by Asaeli Tikoirotuma.
Edwards added: "I think Saturday was a little bit of a reminder, both the Fiji game and the Tonga game, that it can boil over at times and it is vital that we, in particular, keep our discipline."
Wales beat Argentina 40-6 on Saturday, and after hosting Tonga, face Australia at Millennium Stadium on Saturday, 30 November.