Ross Batty: Bath scrum machine helps give us the edge
Last updated on .From the section Rugby Union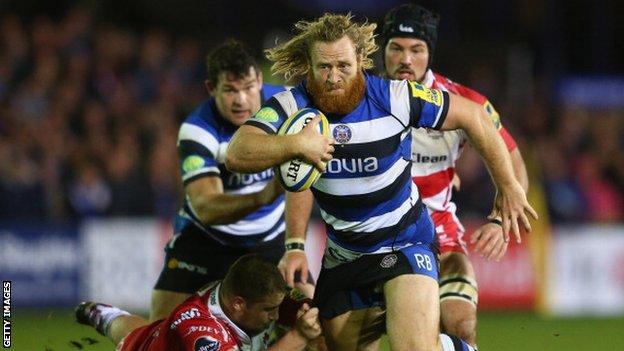 Hooker Ross Batty has said a custom-made scrum machine is helping give Bath the edge as sides adapt to new scrummaging laws.
Bath, who have won their last six matches in all competitions, developed a computer-linked scrum machine during the off-season.
It features sensors on the head pads, with an alarm sounding if the front row is not pushing straight.
Batty said: "It has been very helpful, especially with the new laws."
The training machine was developed by Bath forwards coach Neal Hatley, in conjunction with commercial partners over the summer.
Batty believes much of Bath's recent success at the set-piece is down to Hatley, himself a former prop.
"We've had a bit of joy at the scrum this season and that's testament to Neal," said front-rower Batty.
"The time he puts into the scrum is second to none. He has to take a lot of the credit.
"With the new scrum laws you need to stay on a level plane and the new scrum machine helps us do that."
The revised laws governing the scrum were introduced globally at the end of the summer. Under the regulations, packs bind with each other before engaging.
"As a collective, we are taking steps forward," added Batty.
"We are very happy with the way we are going but there is always room for improvement."