Waltzing World Cup winner Ben Cohen - from Sydney to Strictly
Last updated on .From the section Rugby Union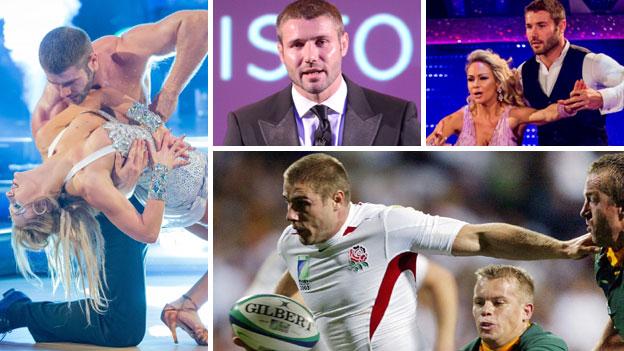 While most of England's 2003 World Cup winners were gathered at Twickenham a fortnight ago, celebrating the 10th anniversary of that famous victory in Sydney, Ben Cohen was dancing a whole-hearted Paso Doble.
Chest out, twirling a cape, making "angry eyes" at judge Craig Revel Horwood, who was impressed by Cohen's "power and machismo". Cohen's team-mates missed a Strictly masterclass, although Martin Johnson presumably records it.
From waltzing down wings to waltzing across ballrooms, life has a peculiar way of panning out. But all that power and machismo has to have an outlet.
"It was a shame I couldn't be there for the reunion," Cohen, 35, tells BBC Sport. "I would have loved to have caught up with everyone. But work's work. And you can't be constantly looking back at what you achieved in your career, you have to move forward and put everything you've got into your new life."
Perhaps the most peculiar aspect of Cohen's latest venture is that it has transformed one of the less-heralded members of England's World Cup-winning team into probably its most famous. At least for as long as he keeps impressing Revel Horwood and the rest of the Strictly Come Dancing judges.
Even more peculiar is that many of the show's 10m viewers won't even be aware Cohen ever won a World Cup - if you were to draw up a Venn diagram of rugby union and Strictly fans I suspect the overlap would be minimal.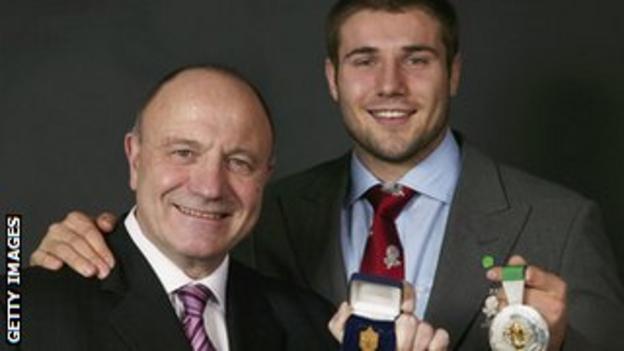 But Cohen, formerly of Northampton, French club Brive and Sale, continues to do what is not necessarily expected of him - shrugging off the perceptions of those who wish to pigeon hole him just as once he shrugged off opposing wingers.
Cohen's father Peter, brother of 1966 football World Cup winner George, was beaten to death in his own Northampton nightclub 13 years ago last Thursday. This Friday marks the 10th anniversary of his own World Cup win. They are two events in his life he will never be able to untwine.
"I was so down in the dumps and sidetracked after what happened to my dad," says Cohen, who retired from rugby in 2011 at the age of 32. "It had a huge effect on all of my family and I had to deal with a lot of anger and hatred.
"It was Wayne Smith, who took over as [Northampton] Saints coach in 2001, who picked me up and put me back on track. He told me: 'You don't want to throw away your career, you've got to redefine your goals.' I changed my work ethic and whole approach to rugby. He helped me channel that energy and inspired greatness."
Cohen's two ambitious goals were to become the best player in his position in the world and to win a World Cup. He achieved the latter and during England's glory years, between 2001 and 2003, was one of the world's deadliest wingers.
Cohen rarely speaks to his old England muckers, except for former Saints team-mate Matt Dawson. But that is how life goes whatever job you leave behind, whether it was scoring tries for England or stacking supermarket shelves.
Indeed, Cohen speaks fondly and with pride about those glory days and England's greatest side. "That really was a golden era for English rugby," says Cohen, whose 31 tries in 57 internationals puts him joint second, alongside fellow World Cup winner Will Greenwood, on England's all-time list.
"There were many players in that side with a hell of a presence on the pitch and that came from years of experience. The only way you can perform under pressure is if you have been there before and learned from those moments.
"Collectively we knew we were part of a special team but no-one was bigger than the team. That's what made us great: it was a case of 'you're here, you're working, if you don't perform or get too big for your boots, you're out'.
"And it was Clive Woodward [England's manager] who created that environment, from giving us the best hotels, the best facilities and the best equipment to putting the best management and coaching team in place. To repay that investment we had to turn up and over-achieve, which we managed to do.

"Beating the Wallabies in their own backyard to win the World Cup wasn't easy. But that's what great teams do, win big games and create history."
Having accomplished his goals, Cohen's form tailed off, just as England's short-lived pre-eminence waned. Although Cohen, who earned a reputation for prickliness during his playing days, initially baulks when I suggest England have never been the same since - "do you know what you're on about or not?"
The facts are that having beaten the three southern hemisphere giants in the autumn of 2002, won a Grand Slam in some style in 2003, beaten New Zealand and Australia down under that summer before winning the World Cup, England finished third, fourth, fourth and third in the following four Six Nations.
It took England until 2011 to win their next Six Nations title and they haven't won a Grand Slam since 2003. England did manage to reach a second successive World Cup final in 2007, but no-one is quite sure how.
Another of Cohen's former team-mate's, Lawrence Dallaglio, has called the aftermath of England's World Cup win "a wasted opportunity".
Put Cohen's initial reaction down to loyalty, an admirably knee-jerk urge to defend former colleagues, because he agrees with Dallaglio eventually, at least partly.
"The goal was to win the World Cup and we put everything into that," says Cohen. "We put all our eggs into one basket, we didn't really plan for afterwards.
"A lot of players were exhausted. Players who had played through injuries to make that World Cup, their bodies said 'enough is enough'. They needed to rest, go off and have operations or retire, which some of them did."
Having played his last game for England in 2006, Cohen left Northampton for Brive in France in 2007, but failed to settle. And after a couple of solid seasons with Sale, Cohen decided the time was right to hang up the boots.
His rugby career was behind him and his anger had subsided but the death of his father continued to inform Cohen's actions. In 2007 he stumbled across a Facebook fan page with 37,000 members, all of whom happened to be men.
Cohen, unbeknown to him, was something of a gay icon. But it was their heartbreaking tales rather than their adulation that kept him reading.

"There were many stories about how they'd suffered at the hands of others," says Cohen, who is also profoundly deaf and supports efforts to make rugby more accessible to the hard of hearing.
"All because they were perceived to be different. People wanted to kill themselves because they were being bullied. I'd also suffered at the hands of others, my dad got beaten to death by bullies. I felt I could make a difference."
Cohen, who is married with two kids, created his StandUp Foundation and embraced his status as a gay pin-up, posing on covers of gay magazines wearing only his biggest smile and his smallest pants - the very picture of tolerance.
"It was about breaking down stereotypes and the gap between gay and straight," says Cohen, whose charity raises awareness about all forms of discrimination, working with corporations, working in schools and raising money to support other organisations striving to stamp out bullying.
Cohen admits he only agreed to appear on Strictly when he realised it would be another, very visible, way of disseminating his message. He has even flogged a pair of his used undies for £5,000. Now that's commitment to the cause.
"There aren't enough role models in sport," says Cohen. "Sportspeople have to understand they have an extra string to their bow. Outside of politics, sport has the biggest impact. It can drive cultural change and educate the next generation. It's been a good journey, I love what I do now. I don't miss rugby at all."
Cohen is a long way from Sydney but still harnessing his power and machismo for a good cause. Next stop is the Charleston on Saturday. No chest to impress Revel Horwood with this week, better get polishing those spats.