Welsh regions 'dead' without European rugby - Gareth Edwards
Last updated on .From the section Rugby Union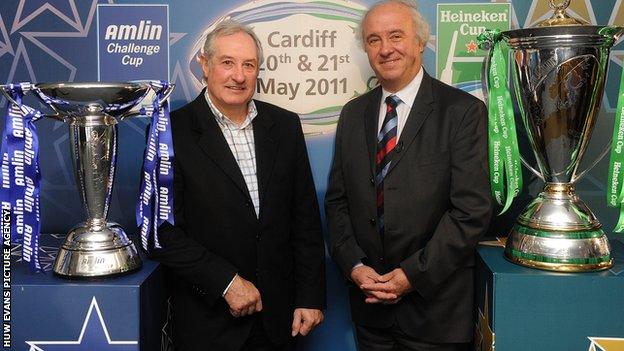 Gareth Edwards says Welsh regional rugby is "dead" without a European competition to play in next season.
Cardiff Blues director Edwards, a former Wales captain, says the Welsh regions need an Europe tournament.
"It is dead," said scrum-half great Edwards when asked about the prospects for regional rugby without Europe.
"What is without question a fact is if we don't sort this out, if we don't have an European competition, the game at regional level in Wales is finished.
"It is paramount to the success of the regions over the years.
"European competition has been, and will be, the main source of revenue.
"These are the games people want to see. So, it has to be sorted, one way or the other.
"There is no point beating around bush and the sooner we get this sorted, the better it will be for everybody."
Edwards' remarks came after a serious of statements were released by the governing bodies on Thursday in a show of unity backing the Heineken Cup.
Premiership rugby, the umbrella organisation which represents the 12 English clubs, replied with a statement of its own saying the English clubs plan to go ahead with a new European competition.
England's Rugby Football Union released a statement saying it was "surprised and disappointed" not to be at the other unions' meeting.
Leading French clubs and Welsh regions had previously indicated they intended to join their English counterparts from September.
Plans for the new tournament were formed following English and French clubs' complaints over the qualification criteria and distribution of revenue for the Heineken Cup.
Premiership Rugby gave notice to organisers European Rugby Cup in June 2012 it intended to leave the Heineken Cup and second-tier Amlin Challenge Cup and argues that, with its clubs having played out a two-season notice period, it is free to set up its own tournament.
However the Scottish, Welsh and Irish unions say their clubs will not be permitted to participate in any tournament that does not have the endorsement of the International Rugby Board.
And IRB chairman Bernard Lapasset said all competitions must be run by unions, not clubs, and his organisation "will ensure we have a European competition which fulfils its name, which is not confiscated by some nations".
The five unions, together with the RFU, attempted to meet English and French clubs' demands in October.
They agreed to cut back on the Heineken Cup places available to clubs competing in the Pro12, which is made up of Irish, Italian, Scottish and Welsh teams, and change the distribution of revenue.
There is no indication which teams would play in a European competition run by the unions rather than the clubs.