Heineken Cup backed by Celtic, French & Italian unions
Last updated on .From the section Rugby Union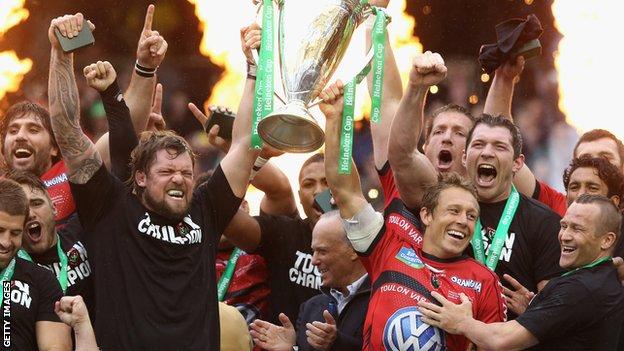 The Heineken Cup will go ahead next season despite a planned breakaway tournament, say the Scottish, Welsh, Irish, French and Italian rugby unions.
The English union was "surprised" not to be involved in talks on Thursday.
Top clubs and regions in France and Wales had indicated they intended to join their English counterparts from September.
Premiership Rugby, which represents England's top clubs, said planning for that competition continues unaffected.
The Scottish, Welsh, Irish, French and Italian unions issued a joint statement after a meeting in Dublin, saying they stood "side by side" in their belief that the unions, rather than clubs, must be "at the heart of the governance of cross-border club competitions".
England's Rugby Football Union (RFU) said it was "extremely disappointed" not to be part of the discussions and added it was committed to finding "a solution so that a truly pan-European competition can continue to thrive for the benefit of players and spectators alike".
Premiership Rugby chief executive Mark McCafferty said despite the stance of their unions, French and Welsh clubs were still behind the breakaway.
On the subject of the French clubs, he said: "We don't see any evidence of their support wavering. We were working with them on Wednesday on the implementation of the Champions Cup. I'm also confident that the Welsh regions remain in support of the Rugby Champions Cup."
Plans for the Rugby Champions Cup were drawn up by English and French clubs unhappy with the qualification criteria and distribution of revenue in the Heineken Cup.
Premiership Rugby gave notice to organisers European Rugby Cup (ERC) in June 2012 it intended to leave the Heineken Cup and second-tier Amlin Challenge Cup.
It argues that, when its clubs have played out a two-season notice period at the end of the current campaign, it is free to set up its own tournament.
However, the Scottish, Welsh and Irish Rugby unions say their clubs will not be permitted to participate in any tournament that does not have the endorsement of the International Rugby Board (IRB).
IRB chairman Bernard Lapasset has already said all competitions must be run by unions, not clubs.
The Ligue Nationale de Rugby (LNR), which represents France's top clubs, and the Welsh regions are yet to respond to the latest statement.
Should they come into line with the wishes of their unions, it would appear to leave English clubs isolated.