London Wasps' Andy Goode: 'The Bear' still happy to take the stick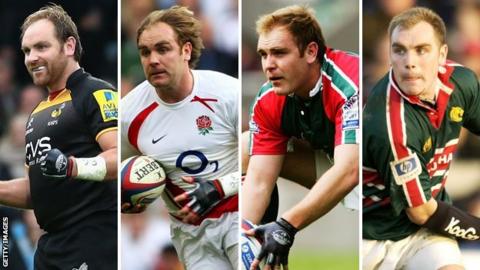 It is a wet, disgustingly cold afternoon in west London and, amid screams of celebration, a fully grown man is mounting a rugby post in a display of unbridled joy.
That man is the 33-year-old Premiership and Heineken Cup-winning former England fly-half Andy Goode.
His outburst of ecstasy is understandable - he and Elliot Daly have just beaten Wasps team-mates Joe Carlisle and Charlie Hayter in a game of post-training kick-tennis.
The veteran, once nicknamed 'The Bear' by commentator Stuart Barnes, is showing he can mix it with the youngsters - and then some.
"Those guys are keeping me young. We have a good laugh. We work hard, train hard - but there's fun times off the pitch as well," Goode told BBC Sport.
"You've got all these young whippersnappers around trying to have a pop.
"I'll be the first one to give somebody a bit of stick. I'm probably the first who's self-deprecating as well. I like to get my own banter in on myself before anyone else does.
"Training's tough whatever age you are and you have to do it with a smile on your face."
Over the past 15 years, in a career that started in the dominant days of Leicester Tigers, took in 17 England caps and is still ticking over nicely on the training pitches of Acton, Goode has become one of the Premiership's most recognisable figures.
A total of 1,909 points from 196 Premiership games tells its own story. Not that Goode's reviews always match the facts.
"Am I bothered that I don't get the accolades that other players do? No. I've got my career behind me and I'm comfortable with that," he said.
"The opinions that really matter to you are those of who you're playing with, the coaches and the guy who's picking the team.
"There have been plenty more talented fly-halves than me in the Premiership, certainly in terms of natural ability.
"There are flash-in-a-pan players, brilliant one minute and causing their own team all sorts of problems the next.
"I'm the first to admit I'm not going to break the line and make dazzling breaks, which everyone wants to see.
"But the environment I was brought up in Leicester, me and Pat Howard at 10 and 12 were about creating space for other people and that's what I like to think I can try and do."
Goode has won five Premiership titles and two Heineken Cups across two spells with Leicester and clocked up stints with Saracens, Brive in France, Sharks in South Africa, Worcester and now Wasps.
Post-humping aside, he has taken on an elder statesmen role at the Adams Park outfit, acknowledging that he has a responsibility to help guide Dai Young's young and energetic squad.
"On the pitch I'm trying to implement a bit of knowledge and game management to the younger guys," he said.
"All these young kids just want to run everything from everywhere. There is a time and a place for that but there's a time and a place to play percentage rugby - although a lot of them have played a lot of rugby and I bounce off their enthusiasm."
Wasps' results have fallen just short of their performances this season.
at the Twickenham double-header, would have been a victory had Goode's last-minute penalty not come back off a post.
It was indicative of the narrow margins that Young's men have been at the mercy of.
But even older men can get rattled by failure.
But I was gutted. It hurt for quite a while," Goode says, picturing that penalty from three months ago.
"I saw the flight of the ball and thought it was over. It dipped left and hit the post. We didn't get a win until game four against Worcester - so that was playing on my mind.
"And my little girl was devastated as well. She was crying her eyes out.
"You're in that position where, in the press, if you win the 10 has done well. If you lose, usually the 10 has had a stinker. You get guys who know the game and guys who don't know it as well."
Recovery, for Goode and his team, has been swift and purposeful.
The man from Coventry was integral to his side's not just kicking 17 points, but spearheading the resistance in the face of Tigers possession and hostile weather.
Goode credits backs coach Stephen Jones - the Wales centurion and former British & Irish Lions fly-half - with eking more out of his game in what is now his 16th season of senior rugby.
But while the way he plays evolves, some things never change.
At stadiums up and down the country, Goode can be guaranteed a boisterous welcome from the local contingent.
"It could be because I'm old. Maybe because I played for Leicester during a successful period? I'm sure other players get it as much as I do," he said.
"I get quite a bit of stick from the Shed [at Gloucester] which is good fun. They get their kicks out of shouting 'eeyore eeyore' when you miss a kick.
"I like to practise my penalties from one place before a game. I won't move until it goes over.
"One time I'm on the right touchline straight in front of the Shed and I was getting all sorts. I think it took me 15 kicks to get it over and they were getting louder and louder."
The noises coming out of Wasps, meanwhile, are ones of quiet confidence - a youthful side that will mature with time.
But in The Bear, Wasps have a man built for the ages, with a streak of playfulness that shows no sign of waning.