Gregor Townsend dismayed by Glasgow Warriors defeat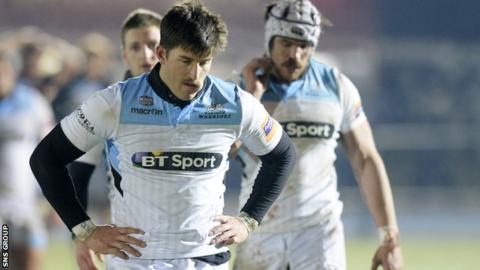 Head coach Gregor Townsend lamented the worst Glasgow Warriors display under his stewardship as Dragons picked up their first away win of the season.
"It was a bad, bad performance," he told BBC Scotland after the 23-8 loss. "We're all disappointed because we are much better than that.
"That looked like a Glasgow team that I've not seen since I've been here as a coach but also before that.
"We made some horrific mistakes to give the Dragons cheap points."
Glasgow remain in second spot in the Pro12 table after their second defeat of the season but Osprey and Leinster could overtake them by the close of the weekend.
Townsend's men racked up 97 points in two matches against the Men of Gwent last term and looked to be on their way to another victory when Niko Matawalu plunged over for an early try.
But the visitors fought back well to run out convincing winners, despite losing three men to the sin-bin over the 80 minutes.
"When you put in a performance like that at home you feel like you've let down a lot of people," added a dejected Townsend. "All of the supporters who came out on a cold night.
"We just couldn't get out of the hole.
"Possibly the fact we scored so early did something to the players' heads, I don't know.
"After that, we just couldn't create anything. It was just mistake after mistake.
"We were up against a team who fought really hard and got better and better. They knew how to play us, slowing down the game as much a possible and keeping control of the ball.
"Richie Rees (Dragons scrum-half) was given an armchair ride but he controlled the game well.
"It was better in the second half, we were putting our bodies on the line a lot more. We were creating penalty after penalty and yellow card after yellow card.
"But we couldn't capitalise on the numerical advantage and the opportunities we had. We missed some gilt-edged chances for tries.
"There were players out there who hadn't had much rugby this season and they were really determined.
"Some nights it doesn't go your way individually but we need to have a minimum level and we were way below that.
"We've got responsibilities and it starts with me as the coach and we've got to produce a better performance for next week."