Mike Blair column: Scots restored some pride in defeat by Australia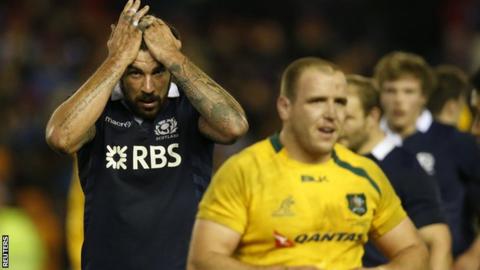 I want to just pick up on a few things this week...
'Championship minutes'; the Scotland and Australia 'green zone' conversion; Scotland's attack, and line-outs.
For those of you who have read my columns before, you'll remember me talking about the importance of the 'championship minutes'; the five minutes before and five minutes after half-time.
There was a huge shift of momentum during this time in the defeat by Australia.
Two minutes before the break, Johnnie Beattie showed awareness and pace to break from a ruck on his own 22m line before delivering an inch-perfect pass to Sean Maitland.
Maitland beat the first man and made the pass to Sean Lamont - crucially just on his inside shoulder - allowing Israel Folau the time to make a terrific cover tackle on the Australian line.
For all Lamont's strength in contact and ball-carrying ability, you can't help but think Tim Visser would have scored with that opportunity.
A couple of tight phases later Dave Denton knocked on; Australia could take a breath.
At the following scrum, referee Jaco Peyper released the pressure valve by free-kicking against Scotland for an early shove - a strange call considering the Scottish scrum was retreating.
Two minutes into the second half the scoreline read 18-12. Some top drawer handling putting Chris Feauai-Sautia in to score in the right corner.
So rather than being 19-13 and a real spring in the step at half time, it would have been a slightly frustrated dressing room at the unconverted opportunity and then a real sickener to lose a try so shortly after.
For me, this was where the game was lost.
Yes, there was still plenty of time to get back in the game but from then on Scotland were always chasing - that's why they call it 'championship minutes'; it's where games are won and lost.
Australia's attacking strategy is to maintain possession and look to create mis-matches in later phases.
They have the personnel to beat a man one-on-one and don't need a second invitation to turn a chance into a try. They have players with the 'X-factor' and they can sniff a try out.
Folou's try was a classic example of how to manipulate a defence. Folou v Ryan Grant isn't a fair contest; they were in Scotland's 'green zone' (inside the 22m) three times and came away with points each time.
Scotland just seem to lack this ability. There were some fantastic passages, a lot of them involving touches from Jim Hamilton, who had a great game on his 50th appearance, but there wasn't the killer instinct or the one extra support player that was required to finish them off.
They were in Australia's green zone eight times and came away with points only once.
Missing the likes of Matt Scott and Stuart Hogg in particular certainly doesn't help as they are real strike runners but for Scotland to score a try it seems to take an awful lot of huff and puff.
I was encouraged by a number of aspects in Scotland's attack. Unfortunately the handling did let the team down at times but the ambition was there and with time this will reap rewards.
In the warm-up for the game there were plenty of moves and adventurous attacking shape - it's putting it on the pitch in the heat of the battle that's so important.
And there was more variety in their play; attacking in waves of two lines, an extra pass amongst the forwards, more offloads.
Beattie was key to this as he is very comfortable on the ball and has vision and understanding of the game.
With Beattie and Denton in the pack they are able to share the ball carrying and there are two players for the defence to watch for and two great options.
Ross Rennie, very highly regarded by the management, will create some selection headaches in a couple of months time when he's match fit.
An analysis of this game wouldn't be right if I didn't mention the line-out as it's such a key facet of the game and malfunctioned badly again on Saturday.
Sixty one percent of line-outs were deemed of sufficient quality to play from for the Scots.
The line-out has functioned impressively over the longer term but this autumn we have seen a change - a complete overhaul of the set-up and calling system, instigated by forwards coach Jonathan Humpreys.
There is always time required to bed in something new and adapt when the players have been used to something for so long. Here's hoping that come the Six Nations it will return as a major strength.
It just appeared to me that every time the Scots threw in there was an Australian "pod" beside them creating a tough job for any hooker to hit his man.
In contrast, Australia had 100% workable line-outs and with most attacks coming from this source in a game you can see why it's so important.
Pride was very much restored but it was a game that could have been won.
I think the players and management would have been keen to play one more game this autumn as it appeared things were just starting to click and the understanding becoming more evident.