Gordon D'Arcy says All Blacks defeat lowest point in career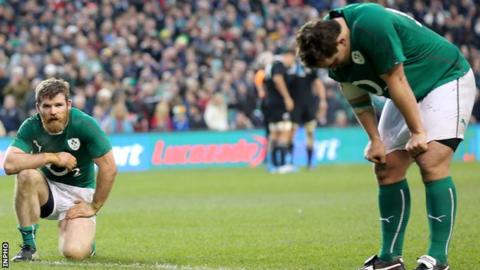 Long-serving Ireland centre Gordon D'Arcy says Sunday's last-gasp defeat to New Zealand was the lowest point in his rugby career.
The 33-year-old Leinster man believes he has lost his last chance to beat the All Blacks, after the crushing 24-22 loss to the world champions.
"I don't think we have them in the next year and a half, so it probably was my last go at them," said D'Arcy.
"It was a pretty horrific one to take, I was broken by it I think."
Despite the agonising defeat, D'Arcy says Ireland must try to harness their impressive performance against the All Blacks to build consistent progress for 2014.
He even suggested Ireland should already be targeting the RBS Six Nations title under new head coach Joe Schmidt.
"If we don't build on that and it doesn't become the base for the Six Nations, then what did we achieve? Nothing," added D'Arcy.
"We talk a lot about wanting to move forward, but sometimes we get in our own way and we pull out one performance and we're perceived as not being consistent enough.
"There is definitely a level of progression from these three autumn games, but this is only a positive if after five games in the Six Nations we walk away from that with five consistent performances, and hopefully a trophy."