Wales legend Phil Bennett 'ashamed' of rugby row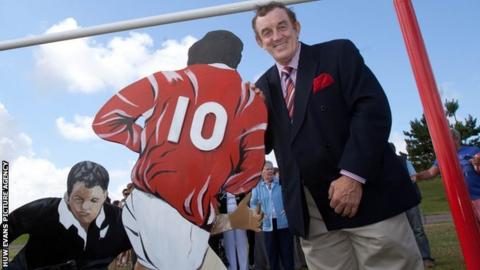 Wales and British and Irish Lions legend Phil Bennett is "ashamed and embarrassed" of the dispute that threatens to divide Welsh rugby.
The Welsh Rugby Union and the nation's four regions dispute funding, a player exodus and a mooted Anglo-Welsh league.
The ex-Llanelli fly-half says fans could be "alienated" by the rows.
"If they don't get their act together... those gentlemen running the game should be ashamed of themselves," said Bennett.
Bennett was fly-half and captain during Wales' 1970s golden era and a star of the Lions' invincible 1974 tour to South Africa.
He also led the Lions in their 1977 series loss in New Zealand, having been among the Llanelli players who famously beat the All Blacks in 1972.
He is now a BBC Wales rugby pundit and says fans "paying good money" to watch Welsh rugby are "baffled and sickened" by the rows over the game's future.
"It's [the situation] absolutely disgraceful," Bennett told BBC Radio Wales.
Among the ideas for the future of European rugby to have surfaced this season are European competitions formed by England and France and a tournament involving teams from rugby nations other than England.
Meanwhile Wales' regions are in talks with England's Aviva Premiership clubs that could lead to a full-blown Anglo-Welsh competition.
But the latest idea, could see a European tournament without leading French clubs.
Bennett was unimpressed by that, saying: "Without England it's nonsense and without France in the European Cup it's a waste of space."
At a WRU-regions meeting last Wednesday (11 December), the sides failed to agree a deal to address those issues, but further talks are planned.
Fans of Newport Gwent Dragons, Cardiff Blues, Ospreys and Scarlets - of which Bennett is president - are set to meet WRU officials on Monday to express their concerns.
The regions have until the end of December to sign a new agreement or face losing funding of up to £16.5m a year.
But they are also considering whether to break away from the WRU and play in that possible new Anglo-Welsh league, starting in 2014-15.
The Ospreys, Blues, Scarlets and Dragons say they want to play against English clubs rather than be forced by the WRU to compete in the Heineken Cup.
The regions could take legal action for the right to play in cross-border tournaments without WRU permission.
As they gathered at the Ospreys' home, Swansea's Liberty Stadium, there was increasing speculation the regions will not sign a participation agreement with the union before the 31 December deadline.
A WRU statement said it was "hopeful" the participation agreement between the parties would be signed before the 31 December deadline.
Bennett said of the impasse: "I'm so embarrassed and ashamed.
"It was only eight months ago we were all crying in the national [Millennium] stadium, - a nation together [as Wales won the 2013 Six Nations].
"Here we are, eight months away, we are at war with each other.
"British rugby's at war and, at the end of the day do you know what we're going to do? [Answer:] alienate the working class man who comes to support the game, [and who] brings their young children to see the stars.
"And if they don't get their act together shortly, those gentlemen running the game should be ashamed of themselves.
"There has to be a resolution."