Richard Cockerill: Leicester boss in Sale scrum 'cheat' claim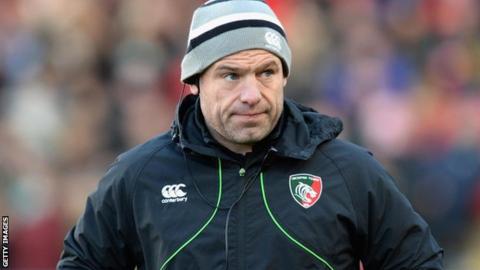 Leicester Tigers boss Richard Cockerill accused Sale of "cheating" at the scrum following their 30-23 victory over the Sharks at Welford Road.
A new three-stage scrum engagement sequence has been introduced in the Premiership this season.
"When sides just want to cheat it is tough," 43-year-old Cockerill told BBC Radio Leicester.
"You have a Sale front row who are being coached to not take the engagement and walk backwards."
Sharks counterpart Steve Diamond replied: "That's fine coming from an individual like Richard Cockerill. His controversies with referees go before him."
The new "crouch, bind, set" instructions for scrums mean front rows have to bind before engaging, packs cannot push until the referee is happy and scrum-halves must feed the ball straight.
Cockerill was angered by issues at the set-piece against Sale, with Leicester eventually awarded a second-half penalty try by referee Matthew Carley following a series of infringements at the scrum.
"I know the referee has got to learn, but with the scrums at the end I just sat there shaking my head," Cockerill said.
"The gentleman doesn't know what he is looking at. If Steve Diamond is coaching their front row to not take the engagement just to get a free kick and con the ref it is wrong and hard for the referee.
"The first thing about scrummaging is it has got to be coached well. The referee has to be stronger and send the bloke to the bin or get under the posts sooner."
Cockerill is eager that the scrum remains a "pushing contest" and added: "I want the opposition to stay square so we can push harder than them and we score.
"We've seen it dozens of times. A side comes to cheat, are happy with a bonus point and it doesn't get managed as well as it should."
Diamond admitted Leicester deserved to win the game, but also had issues with several decisions by the officials.
"If we want to go down the fine art decisions route there were four penalties in the last minute on their five-metre line where no yellow card was given," he said.
"We have got equal things to discuss. He [Cockerill] can bleat as much as he wants. Leicester should shut up, take the points and move on."