WRU to offer four Welsh regions new agreement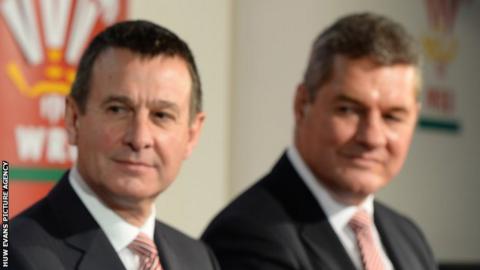 The Welsh Rugby Union says it will present the Welsh regions with a new deal for professional rugby in Wales.
The statement came after a meeting of the WRU board of directors amid the bitter row with the Welsh regions.
On Friday, the regions - Scarlets, Ospreys, Cardiff Blues and Newport Gwent Dragons - refused to renew the WRU's existing participation agreement.
The WRU claimed the new deal would ensure "...the retention of Welsh players is properly recognised..."
The Welsh Rugby Union met on Thursday to discuss the row that could see the nation's regions breaking away to play English clubs.
After the meeting, it released a statement saying the WRU board of directors had "unanimously agreed" with the statement of 31 December 2013.
Thursday's statement said:"The WRU has today informed the four Regional Organisations that they will shortly be presented with a new agreement in respect of professional rugby in Wales.
It went on: "The new agreement will further reflect the WRU's desire to ensure that Welsh player development and the retention of Welsh players is properly recognised."
The participation agreement sets out the relationship between the governing body and the regions and includes funding, player release for internationals and competitions.
The regions' unity could now be tested if the WRU offer to fund them according to the number of international players they produce.
Under the current participation agreement, around £6m is split equally between Ospreys, Scarlets, Cardiff Blues and Newport Gwent Dragons regardless of the number of Test players they produce.
In addition, a wider dispute engulfing rugby across Europe is unresolved, and on Tuesday, the WRU had hinted it could set up new teams if the regions sought to play in the English Premiership.
As the WRU met on Thursday, Premiership Rugby, the umbrella body for the English clubs, also released a statement welcoming the Welsh regions' decision to back the creation of the Rugby Champions Cup next season.
The English clubs had announced a new European Rugby Champions Cup to replace the current Heineken Cup in September 2013.
They claimed the new European-style tournament would see a significant increase in the commercial value of European rugby for all participating teams involved.
Mark McCafferty, Premiership Rugby Chief Executive, said they needed to reach an agreement for a new tournament soon.
"We believe that the new competitions are clearly the best solution," said McCafferty.
"They will deliver more matches between the top teams, as decided on merit, and as the Welsh Regions have stated, they will generate the financial returns to ensure continued strong investment into the club game, including player development and retention."