Pontypridd ready to listen to Welsh Rugby Union proposal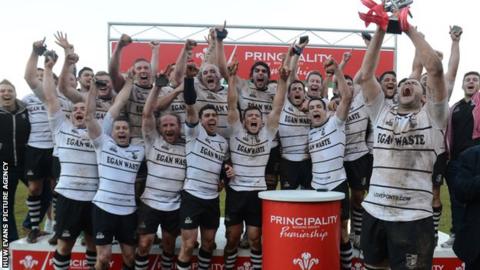 Pontypridd say they would listen to any proposals to base a new professional team at Sardis Road.
The Welsh Rugby Union has hinted it could set up new teams if it does not settle the row with the regions.
Pontypridd are currently leading the Principality Welsh Premiership.
"We would look at any proposal objectively, but without knowing any detail it is very difficult," said Pontypridd chief executive Stephen Reardon.
Reardon was speaking before the WRU board of directors met on Thursday and confirmed it would present the four regions with a new deal for professional rugby in Wales.
Added Reardon: "We would certainly look at a proposal put forward by the WRU. We have a large catchment area here.
"Much is often said about populations in various areas of Wales.
"Rhondda Cynon Taff is the second most populated area in Wales and in the last census it was about 296,000 against Cardiff being the most populated area at about 300,000."
The WRU is embroiled in a row with its four Welsh regions - Scarlets, Ospreys, Cardiff Blues and the Newport Gwent Dragons - over funding, the exodus of Welsh players and an Anglo-Welsh League.
The regions have threatened to break away and play against English clubs, while the WRU have hinted at forming new teams to replace them in the Pro12 and the Heineken Cup.
Reardon said the WRU had not contacted his club.
"There has been no contact between the Welsh Rugby Union and Pontypridd, regarding the issue dominating Welsh rugby at the moment," said Reardon.
"However, if the WRU were to approach Pontypridd on this matter we would be prepared to consider the proposals they put on the table.
"Obviously, this is mere speculation but we are always prepared to listen to any proposal objectively, especially in the interests of Pontypridd RFC and Welsh rugby as a whole."
Pontypridd lost their place as one of Wales professional clubs when Welsh rugby went to regions in 2003 and is now part of the semi-professional Welsh Premiership.
The Valleys side were part of the Celtic Warriors, with Bridgend, but the side were disbanded after a season back in 2004.
Pontypridd are now a feeder team for the Cardiff Blues.
Reardon says Pontypridd still has ambitions to return to the top flight of European rugby.
"Everything we do here at Pontypridd, we do in the interests of Pontypridd as a club," said Reardon.
"We are a community club, a valleys club, we play in the Premier Division, we aspire to play at the highest level possible within the game
"We are flying the flag for Wales in the British and Irish Cup, we are top of our group and we have aspirations to win our group."