Harvey Biljon: Jersey head coach seeks Championship survival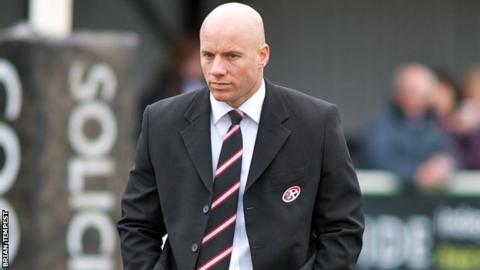 Coach Harvey Biljon says Jersey need to lower their ambitions in the short term as they seek to avoid relegation.
Former director of rugby Ben Harvey previously said Jersey could be in the Premiership within five years.
But with the islanders second from bottom of the table, the new boss said the focus had to be on survival.
"I want to put systems in place that will, first and foremost, stabilise us in the Championship, for the next six months," Biljon told BBC Radio Jersey.
"There'll be some difficult and uncomfortable times over the next three years.
"But within that time I think we can be a stable team within the Championship, which is a very tough league, and hopefully a team that will regularly push to be in the play-offs."
The former Wasps scrum-half played under some of the sport's top coaches, including Sir Ian McGeechan and Shaun Edwards, and intends to continue learning from them in his first head coach role.
"You have to stay on top of things, if you're not moving forwards then you're going backwards. I'm in regular contact [with them] and seeing that everything we're doing is keeping up with what's going on at the top of the game," he added.
Jersey chairman Bill Dempsey said Biljon's experience at various levels of the game had helped him get the job from a long list of candidates.
"We had many applicants - some very exciting ones and some maybe looking for a retirement pension," said Dempsey.
"We're not just a first team, we have 600 kids in the academy and five different age groups playing in leagues in the UK - so it had to be someone who had experience coaching at different levels.
"He's coached at schools, Under-16 and U-18 level, England Counties, Blackheath and has been very successful at the [Cornish] Pirates.
"There were quite a few names: two ex-international coaches, a couple of people who had been in the Premiership and some former international players. But what we are trying to do is build for the future - there's a three-year contract in place and I think [forwards coach] Steve Boden and Harvey will work really together.
"The challenge is to get away from relegation, win our home games and maybe target games a bit more."
Jersey became fully professional for the first time this season, but Dempsey is keen to regain the community spirit of the club from the amateur days.
"The other thing that's changed and maybe we've misjudged is that by going professional we've lost a lot of contact with our members," he added.
"Maybe we need to look at getting the guys out to the community, in schools, and so on. We need to get back in touch with our supporters."