Cornish Pirates not yet top-four squad - Ian Davies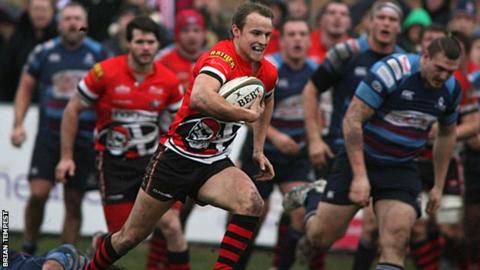 Cornish Pirates head coach Ian Davies believes his side's mid-table position is a fair reflection of the strength of their squad.
The Pirates are currently sixth in the Championship after Saturday's 35-30 defeat by Rotherham, seven points adrift of fourth-placed Bristol.
Only the top four clubs go into the end-of-season play-offs.
"We're drifting away a little bit from the top four but that's where we are as a squad," he told BBC Radio Cornwall.
"We're a top-six squad and - on our day - we're a top-four team, but we're not a top-four squad at the minute."
The Pirates have a comfortable 13-point gap to seventh-placed Bedford, but Davies admitted his side are up against it in terms of overhauling teams above them and getting back into play-off contention.
"We're where we thought we would be, but these are the games you have to learn from and start winning," he said.
"I'm not saying we're out of the race, but we're making life more difficult for ourselves."
The Pirates opened up a commanding 24-3 lead in the first half, but allowed the Titans back into the match, a failing which Davies attributed to the inexperience of his squad.
"I don't think they were the better team - they were very ordinary, but we lacked a bit of composure and made some key errors and that cost us the game," he added.
"Pressure builds and there's lots of young boys on the field who probably haven't had the verbal barrage that they got out there, but that's all part of the learning curve.
"The disappointing thing for us is that - to use football parlance - we couldn't put our foot on the ball and just control things a bit."