Worcester Warriors: Dean Ryan hits back at criticism from fans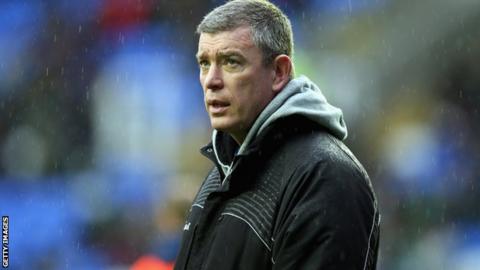 Worcester director of rugby Dean Ryan has been stung by criticism from the struggling Premiership club's fans.
Irate Warriors supporters took to various online forums this weekend to register their unhappiness after Saturday's defeat by London Irish.
But 47-year-old Ryan believes the result was a one-off low point on the back of several improved performances.
"One step back and everybody wants to put us in the stocks and throw mud at us," he told BBC Hereford & Worcester.
"As a club, we've got to get better at that, understand when we're below par and get better.
"But, to fuel that because somebody can sit in their mother's backroom and fire a message on a computer and allow that to be part of something is something we need to move away from."
The 22-9 loss, in which all the home side's points were scored by Australian star James O'Connor, enabled Irish to climb above Newcastle into 10th and left Worcester 11 points adrift at the bottom with only 10 league games left
It was Worcester's 12th straight league defeat this season, stretching their overall losing run to 17 games, and they have not won since 1 March.
Given how few realistically winnable fixtures there are left to play, it appears unlikely that Worcester will avoid relegation and the danger remains of them emulating Rotherham's feat of losing every game in the 2003-04 season.
Ryan implemented a five-year plan last summer when he succeeded Richard Hill, but in his weekly column for the Guardian last week, he appeared to acknowledge that the club are already bracing themselves for their second relegation in three years.
"Anything I might say about feeling in a good place is obviously going to sound a bit hollow," he wrote.
"But look at Northampton and Harlequins, currently second and fourth in the table. You could argue they are a product of relegation. In many respects, the cultural changes that laid the foundation for the success both sides are currently having were laid in the haven of relegation.
"Likewise, Exeter got the infrastructure right when they were in the Championship and have refined it, bit by bit, during their three years in the Premiership. There is much to admire."
He added: "Sure, it is a work in progress but we are a vastly different squad from the dysfunctional unit that started the season, believing a Premiership side was purely the product of its wage bill and that a little bit of chequebook magic could do the trick again as it had done in the past."