Jersey RFC caretaker Steve Boden 'not ready' for head coach job
Last updated on .From the section Rugby Union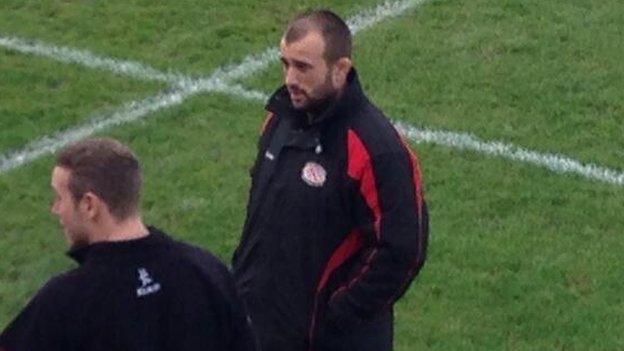 Jersey caretaker coach Steve Boden says he is happy to see Harvey Biljon appointed as head coach.
Boden, who will revert to his role as forwards coach, has been in charge of the first team since director of rugby Ben Harvey stood down last month.
The 31-year-old said he felt he was not ready to make the step up to head coach so early in his career.
"It's been a great opportunity for me for later on in my coaching career," he told BBC Radio Jersey.
"The appointment is very good for the rugby club and shows the intent of where they want to go and the ambition they've got.
"It's probably pushed my hairline back by half an inch but I've enjoyed it.
"I've been asked whether I'm aggrieved that I've not been given the opportunity to take the head coach role and some people have been trying to put words in my mouth to get a story but I'll be brutally honest - I'm not at all aggrieved by it.
"The club have been really professional and communicated really well. I'm 31 years old and coaching in the Championship and I feel like I'm doing a decent enough job but I've got a lot to learn still.
"I think Harvey Biljon is someone I can learn a lot off and hopefully he can learn a bit from me."
Boden's final Championship match in charge before Biljon's arrival was Saturday's 33-26 defeat by league leaders London Welsh.
"I was disappointed not to win - I think we deserved a lot more than a losing bonus point," added Boden.
"I think we had a few funny decisions from the referee but I tell the boys that we can't blame the ref, we have to take him out of the equation by doing stuff exceptionally well and in the first 20 minutes of the game we didn't do things exceptionally well and that's pretty much where the game got lost.
"But that's life. We got a losing bonus point which is very important for us and I've stressed to the boys and to some of the supporters, who sometimes look at me like I'm deluded, but it's not about the winning and losing - it's about the performances.
"If you get the performances right, all the winning stuff starts to come together. If you concentrate solely on the result then you'll neglect a lot of small details we need to be on top of."