Gloucester: James Simpson-Daniel excited by final contract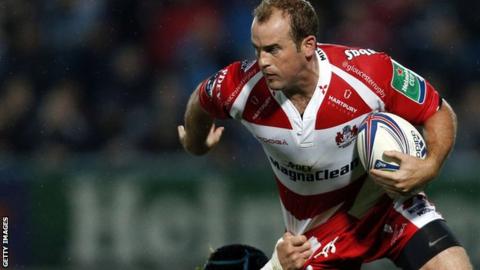 Injured Gloucester wing James Simpson-Daniel believes his new two-year deal will be his last in the hope he retires at the top of his game.
The former England international, 31, has made 276 appearances during his 14 seasons at the Kingsholm Stadium.
He underwent ankle surgery in November and is confident he will fulfil what he considers his final playing contract.
"I wanted to try and get two good years of quality rugby into me and then hang the boots up," he said.
"I wasn't playing any games when we had the negotiations and it was about a two-year deal. I didn't want to go in there and say I wanted three because I've got this fear - I don't want to peter down and be playing second team rugby in the final year of a contract."
Simpson-Daniel, who has 10 England caps, played seven Premiership games this season before dislocating and fracturing the joint in his left ankle in a 20-3 LV= Cup win over Newcastle.
He was expected to be sidelined for between four and six months after undergoing surgery in November.
It was his second major injury setback inside 12 months, having undergone a shoulder operation in November 2012 which forced him to miss the remainder of that campaign.
And Simpson-Daniel said his latest injury comeback remains on track.
"I saw one of the specialists in London, had an X-ray on my ankle and leg and he was very happy with it," Simpson-Daniel told BBC Radio Gloucestershire.
"He showed me (the scans) and yes, there is a nice big plate in there but it is holding the bone together well and I couldn't be happier.
"Obviously I dislocated it, broke the bone, took a bit of ligament off, some cartilage damage and other bits and bobs, but I've now got the air-cast boot off now."