Launceston 'as good as anybody' in National League Two South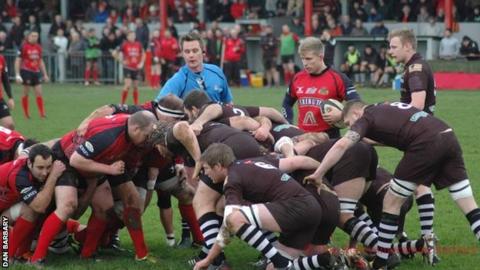 Launceston head coach Cliff Rainford says his side are "as good as anybody" in National League Two South.
The Cornish All Blacks beat high-flying Canterbury 18-6 at the weekend to maintain their unbeaten home record.
"Our game is as good as anybody's and once we believe that we've got nobody to worry about," Rainford told BBC Radio Cornwall.
"We just have to concentrate for 80 minutes and if we can do that we're as good as anybody in the league."
Rainford's team are ninth in the table, with a superb home record but patchy form on the road.
Launceston's next game is a trip to league leaders Hartpury College, and assistant coach and flanker Tom Rawlings said it was time for the team to reproduce their home form on their travels.
"We're a force to be reckoned with now at home but we have to do it on the road now," he said.
"I don't see why we can't go up to Hartpury and get a win again."
Rawlings had identified his team's defence as a weakness earlier in the season, but he said the corner had well and truly been turned.
"Canterbury had numerous penalties and never got over, the systems were in place in defence and we stayed strong," he said.
"Before Christmas we maybe would have buckled a bit under pressure but we didn't. The guys worked extremely hard going into this game.
"We're really pleased with the performance - it was an 80-minute performance and that's what we needed to beat Canterbury."