Redruth 'will regroup from financial difficulties'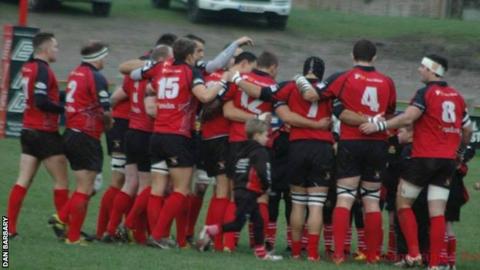 Redruth will come back stronger from their financial struggles, according to club secretary Roger Watson.
The Reds have decided to stop paying their players for the rest of the season amid ongoing financial problems.
"We'll be fielding a strong and competitive side and then we can regroup and kick on again next season," Watson told BBC South West Sport.
"We've got creditors we have to manage and obviously our first priority has to be the future of the club."
The National League Two South side have had to stop paying players in the previous two campaigns, while director of rugby Adrian Edwards was one of several members of the board and executive committee to leave the club earlier this season.
Experienced prop Darren Jacques and former Cornish Pirates winger Lewis Vinnicombe have also left the club following the decision to end player payments.
"We wish them well but we've got some young faces coming through," continued Watson.
"We're looking to recruit - we've struggled over the last few years to maintain second-team rugby.
"We had to abandon the idea after about three weeks this season and one of the primary aims will be to get regular second-team rugby back at the club - the first team needs it and the club needs it in terms of revenue streams.
"The current group of players have committed themselves through to the end of the season. I don't think we'll be losing anybody else but there are some players who say they'll find it difficult to do some of the longer away trips, because their financial situation means they have to work on a Saturday if the club's not paying them."
Watson said the club, who are 12th in the table, were ultimately left with no choice but to stop paying their playing staff.
"As ever cash flow has been very difficult at the club," he said. "It was well-documented before Christmas that our sponsorship and gate income was down on expectations so life was tough.
"At the beginning of the season we set aside a sum of money to reward the players and we hoped that that would get topped up both from the club and by supporters as the season went on, but we weren't in a position to do that so the decision had to be taken in order to protect the cash flow and preserve the future of the club.
"We shall reassess the situation at the end of the season and see where we are.
"We've certainly now stabilised things to make sure we last until the end of the season and can look forward to next season with some confidence, but as far as what any future level of remuneration will be that is something we'll have to reassess when the time comes."