Nottingham Rugby: Ailing club saved from liquidation
By Colin Fray
BBC Radio Nottingham
Last updated on .From the section Rugby Union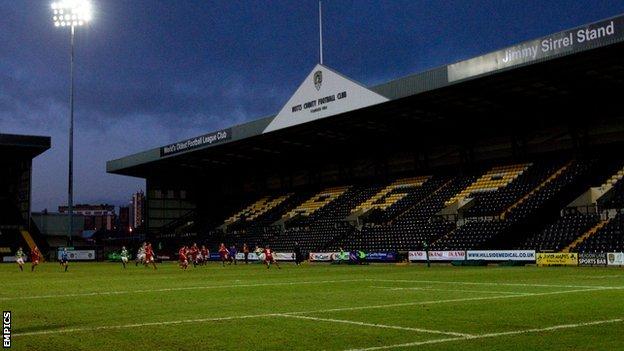 Nottingham Rugby club have been saved from liquidation after securing £750,000 of new investment over the next three years.
The Championship side have been taken over by a 15-strong consortium called the Friends of Nottingham Rugby, but some members are remaining anonymous.
Chief executive Simon Beatham and chairman Alastair Bow are in the group.
"It's definitely saved Nottingham Rugby club, there's no doubt about it," Bow told BBC Radio Nottingham.
The Green and Whites have been plagued by financial difficulties in recent years and have been seeking new investment for several months.
They were on the verge of liquidation when the new deal was signed on Christmas Eve.
"The club has been in serious financial problems from June and the Friends of Nottingham have been helping get the club through, right up until November," Bow explained.
"When it came to December, we were getting pretty serious. To be fair, we probably wouldn't be here today if we hadn't have done this. It would have been administration and immediate liquidation."
The new investment will enable the club to continue at its current level of funding and, Bow hopes, maintain their Championship status.
But they are seeking further "Friends" to double the annual budget to £500,000 so they can compete at the top end of the table and push for promotion to the Premiership.
Bow added: "We were looking for around about a quarter of a million pounds a year, for three years, so we're talking three quarters of a million pounds.
"What that will enable us to do is get back on a sound financial footing. What it won't allow us to do is move forward. That will do nothing more than hold us in the Championship, and probably fighting in that bottom four.
"Our strategy and ambition is to get that number of Friends of Nottingham increased to where we can probably invest around half a million pounds a year. That will hopefully enable us to be competing again in that top half of the table."
Interview by BBC Radio Nottingham's Charlie Slater.